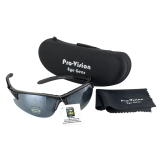 At Synergy Marketing, we certainly do love our promotional products. Can you tell? For many years, we have been assisting Canadian business owners with the promotion of their companies by offering the best promo products in the business. Our catalogue boasts a wide array of useful gifts including everything from ice scrapers to water bottles, key chains to flashlights and toques to sunglasses. And, of course, that's not all!
No matter the type of promotional product you choose to promote your company (there are many to suit the various industries that exist), business owners are guaranteed of one thing. They work! Bettering your company's impression in the minds of your gift's recipients is a sure bet. And, as we pointed out in yesterday's blog, promo gifts have the type of staying power that your average business card does not.
On B2BMarketing.net, Gareth Parkin agrees. "Giving promotional gifts to your current and potential customers can aid in branding, improves their opinion of your company, helps them remember your products or services, will make them more likely to buy from you, and is less expensive and more effective than other forms of advertising and marketing," he reports. He goes on to reveal some other big time benefits of giving out promo gifts to your clients. Here are two more.
1. Promo gifts are cost-effective. It's hard to find business owners who aren't interested in saving money while promoting their businesses. Why spend more than you have to? Everyone deals with a budget of some kind. Promo gifts offer business owners the opportunity to stay well within their marketing budgets, while reaping great rewards. Traditional modes of advertising are often very expensive and less effective.
Parkin concurs. "Investing in a promotional merchandise campaign can bring a greater return on investment than other types of advertising," he reports, "Other types of marketing like radio and television ads can be easily forgotten. Promotional products can cost considerably less per impression, yet are kept for sometimes years and can also be passed onto or seen by other potential customers."
2. Promo gifts have no limits. In other words, you can practically make any useful item a promotional tool. The key, of course, is to make sure that it is of high quality so that it can actually serve the recipient well and for a long time. As mentioned, Synergy Marketing has a ton of different promo gifts to choose from. This is because we know that every business owner is different. And every business deserves the ability to market itself with the perfect gift.
But which ones are the most popular? "Pens and mugs are probably the most common promotional gifts," says Parkin, "but there are so many different kinds of products available now, you can choose products that represent your company and are relevant to your brand. Different themes or company cultures can be promoted through promotional products." This is why we recommend a conversation with one of our experienced and friendly sales reps.
At Synergy Marketing, we proudly have some of the most enthusiastic and knowledgeable people in our industry working as part of our team. Our staff can certainly help you to choose the ideal gift to promote your brand in the best possible way. Impress your clients by handing them the perfect promo gift. For more information on how to select the best gift for your brand, give us a call at 1-877-748-9884!
Comments Off on 2 More Big Benefits From Giving Out Promo Gifts