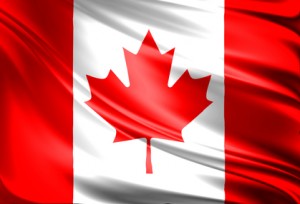 Okay, so this may not come as big news to you or anything, but it's a pretty cool thing to be Canadian. As the nation gears up for Canada Day tomorrow, we can't help but think about all of the things that make us so very proud to be a Canadian company. We may not be the biggest nation in the world (about 35 million people over the second largest land mass on the planet makes us pretty unique) but we're a top-notch country if there ever was one.
Forget all of the talk about how cold it is up here and how many of us live in igloos – we've all heard those jokes before – we're an awesome country made up of very diverse individuals from all walks of life who believe in one principle: hockey rules! Okay, so that's another stereotype. Canada is a thriving nation, and at Synergy Marketing, we're very proud to know that our promo gifts have assisted Canadian business owners to grow their brands for years.
So what makes you proud to be Canadian? Interestingly, this topic came up during a number of conversations we had with some of our clients in the past week. With Canada Day approaching, many of our clients commented upon the plans they have to celebrate. Not surprisingly, many of them will be working. Restaurant owners, for example, have big plans. But what is it that makes our nation so special?
1. Nice People. "It's the people," commented one of our great clients who happened to immigrate to this country in the 1980s, "Canadians have a way about them that sets them apart from everyone else in the world. It's not just that they are usually polite. They are helpful and considerate in ways that they don't have to be. I remember watching a lady help another customer to find items in my store. She doesn't work for me. But I should have hired her. She was great!"
2. Awesome Snacks. The Huffington Post has also commented on why Canada is so great. Among the many reasons to love our great nation, the publication listed a number of snacks that apparently have Canada written all over them. Ketchup chips, Coffee Crisp, poutine and a variety of items made by President's Choice are listed among the favourites. But the strength our economy, however, was also pointed out as one of Canada's top features.
3. Great Economy. The Huffington Post writes that "according to Forbes, Canada is the best country in the world to do business and it's not because of the climate. Chalk it up to a lower corporate tax rate, excellent infrastructure and a well-educated populace. The U.S. and Europe's recent economic woes don't help them either." Not only is Canada a great place to conduct business, but perhaps its most important attribute is that it's an awesome place to live.
4. High Livability. "Ours might be smaller and fewer in number but Canadian cities consistently rank above American cities on livability," reads the publication's website, "In the most recent Mercer survey of livable cities, Canadian cities took 4th, 14th, and 15th place, while the highest-ranked American city was 33rd." We're guessing our hometown of Toronto is definitely included in that esteemed list.
We'd like to take this opportunity to wish everyone in Canada an amazing Canada Day tomorrow! No matter if you're working or taking the day off, be sure to take the time to enjoy being Canadian. As you know, there are many reasons to be proud of where you live – too many to list in today's blog. At Synergy Marketing, we're very proud to say that we are a Canadian brand, and more importantly, a Canadian family. Enjoy your day tomorrow Canada!
Comments Off on 4 Reasons Why Canada Is So Awesome!