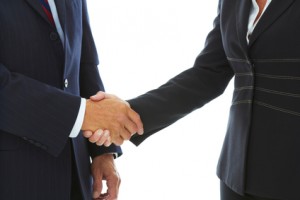 The act of spreading awareness is a team effort. It would have to be, right? How else can one define awareness if it isn't the spreading of news between more and more people as time goes on? That means that getting people on your team is a very important step in getting even more people to know about you. When you're promoting your business, it's wise to remember that the more people you make happy, the better.
Yes, happy. Keep in mind that the customer experience is often rated above the actual products and services offered when it comes to reasons that customers stay loyal to certain brands. If you want to truly spread the good word about your business, you'll go all out to make your current customers happy. They, ladies and gentlemen, are the most important members of that team we mentioned at the beginning of today's blog.
When you have your customers spreading awareness about your brand for you, you have secured the best possible type of promotion there is: word-of-mouth. Remember, for great word-of-mouth promotion to occur, you have to make your customers happy. That means doing more than just providing great products and services. It means developing strong relationships. On WikiHow.com, a few pointers are provided to help you get this done.
1. Network. One of the keys to developing strong customer relationships is developing good business relationships with other professionals in your industry. This will help you to see how your like-minded contemporaries are doing it. As well, "it provides you with opportunities to learn about your competitors, ask for referrals, form mutually beneficial partnerships in complementary industries and spread awareness about your business," says the website.
2. Build business partnerships with other organizations. It's one thing to network – which certainly has its benefits – but it's another thing to join forces with other business owners. It helps for your business to be seen by so many more people. As WikiHow.com points out, business partnerships make it so that "whenever you think of one brand, the other brand comes to mind, and vice-versa. Business partnerships can be very effective advertising tools."
3. Develop relationships with your customers. Well this is the whole point, isn't it? "Customers are people — not numbers — and it is important that you put consideration and effort into building personal relationships with them," says the website. "For example, when you send out Christmas cards each year, you not only gain customer loyalty but you also inspire customers to promote your business to the people they know."
4. Rely on the power of social networks. If we check back on the history of the Synergy Marketing Blog, we'd probably find this tip as the most popular one to be found in our many business-boosting-idea blogs. Is there a better way for word-of-mouth promotion to spread than through the Facebooks and Twitters of the world? "Social networks have become the new darling of advertising because much of the legwork is being done by dedicated fans, for free," reads WikiHow.com.
5. Offer freebies. Just as popular as the social media tip has always been, the handing out of freebies ranks among the top pieces of advice we could ever give. "Pass out merchandise with your company's name and/or logo on it to everyone you meet at networking events, trade shows, client meetings and even personal social gatherings," states WikiHow.com, "Things like pens, magnets and calendars are good merchandising ideas, as these tend to stay in use, and within view, for extensive periods of time."
You do know, of course, where you can get the best promo products in the business, right? Call Synergy Marketing at 1-877-748-9884 today!
Comments Off on 5 Pointers On Developing Strong Customer Relationships