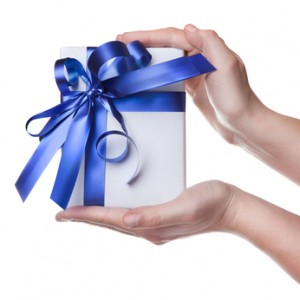 Promo gifts are awesome. They're great. They're amazing! Okay, so perhaps we could go on all day about how incredible promotional products are in the promotion of businesses from all over Canada. Because, after all, that's what we do, here at Synergy Marketing! We're no strangers to the benefits that promo gifts provide business owners. But, that doesn't necessarily mean that you're convinced that they can do the trick.
In yesterday's blog, we admitted that getting the most out of your promotional products comes at the hands of smart marketing strategies. There are numerous things to consider when you are passing them out. On TheMarketingGuy.com, Mark Blaney explains that there is a little more to it than simply handing out gifts to any random person you meet. It's important to consider the frequency that your clients purchase from you.
As well, you should consider the season of the year, whether or not recipients can be mobile with their gifts and what the potential returns on your investment may be when you buy promo gifts to use as part of your new marketing campaigns. But that was yesterday's blog. If you haven't read it, be sure to give it a look. And then come back to today's blog, as we will be continuing our look at Blaney's ideas to consider when handing out promo gifts. Here are five more.
1. What are your competitors doing? Promo gifts have long been known to help business owners get those proverbial "legs up" on the competition. After all, not every business owner hands out promo gifts. But what if your competitors are handing out gifts? You should look into what type of promotional products they may be giving out and look to outdo them. With Synergy Marketing's help, that won't be too hard at all!
2. What have you received that made an impact on you? You must have received, at the very least, a handful of promotional gifts in recent years. Which ones did you like the best? Which ones did you find most useful? Which ones were forgettable? Consider the types of gifts you would personally like the most when deciding upon the promo gift that is right to promote your business.
3. What will the cost of distribution be? For most business owners, handing out promo gifts is a free practice. Then again, you may want to consider shipping some out to your more valued customers – especially if they live outside of your area. As well, you may want to consider training members of your staff to select customers to provide promo gifts to. Additional training may be required for new hires. As always, costs come in many forms.
4. How long will it last? Blaney raises a few points with this consideration that we'd like to address. Firstly, the product itself should be durable and long-lasting. Synergy Marketing proudly provides the best promo products in the business. Top-quality is the name of the game. Furthermore, you want to consider how long the impact of your gift may last. Is it something that can be used year-round, like a calendar? Or is it only good for a few uses?
5. Does it look like you are trying to buy their business? In our experience, the handing out of promo gifts in no way wreaks of desperation. The gesture itself is often regarded as something that is generous and thoughtful. After all, people love getting things for free. Thank your customers with the gesture of a free gift and you're on your way to securing their loyalty. Call Synergy Marketing at 1-877-748-9884 today to order the promo gift of your choice!
Comments Off on 5 More Ideas To Keep In Mind When Giving Out Gifts