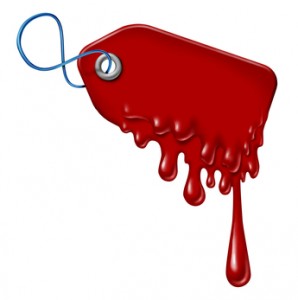 Happy Halloween! Tonight is the night that people wait for all year long in order to get dressed up in their scariest of costumes. Whether it's a party or a night trick or treating that's on your agenda for tonight, we certainly hope you have a safe and enjoyable time. For business owners across Canada, getting in on the spirit of Halloween is a big deal. Handing out candy, wearing costumes and even creating a "haunted" in-store atmosphere are great ways to build buzz around a business.
However, once Halloween is over, the real "getting into the spirit of things" begins. It goes without saying that the next two months will be your busiest. At least, that's what history has shown us. So what will you be doing to attract more business during the busy holiday shopping season? Over the past two days, we have been blogging about ways to build buzz around your brand with the help of Kabbage.com. In today's blog, we will conclude our look at their list of tips. Here are six more.
1. Partner with other local merchants and help drive traffic to one another's stores. Buddying up with like-minded business owners is a great year-round idea. As long as they are not competitors, there's no reason to not try to find ways that you can help to bring each other more business. Perhaps, you can hand out each other's sample products or even small promotional gifts. Scratch their back and they'll scratch yours!
2. Hire a live band to play during busy hours. According to Kabbage.com, this will help to put shoppers in a good mood. And how could it not? How many of us don't enjoy hearing holiday music during the holiday season? It's a great way to boost the spirits of everyone who comes into your store. Not to mention, "the sounds of music will also bring people into your store from the street," says the site.
3. Set up a gift certificate display. During the holidays, gift cards and gift certificates are all the rage. If you sell them at your place of business, they are bound to fly out of the store. They are great go-to gifts, especially for last minute shoppers and people on-the-go. As Kabbage.com affirms, "busy shoppers or those who aren't sure what to get someone on their list will gladly grab a gift card or two."
4. Offer complimentary shipping. Nothing beats free. And during the holiday season, when people are spending more than they usually would, being able to save money will greatly help them. If you're saving them money, it will greatly attract them to your business. Many shoppers will need their items shipped. Would it be profitable to you to encourage more orders through offering free shipping? "Oftentimes, it's even more valuable than a discount," says the site.
5. Hand out coupons valid for the New Year. One of the most important objectives to promoting your brand during the holidays is to have shoppers come back once the holidays are over. January sales are traditionally slower. So coming up with ways to bring people back to your store in the new year will be a key to your company's success these holidays. Offer coupons that are valid throughout January to make that happen!
6. Create gift baskets. It's all about gift-giving during the holidays. And presentation is everything. Is there a way you can put together some items in a gift basket to entice more customers to buy them? "If your store offers products from local vendors, create gift baskets themed with a local touch so members of the community can share some of where they're from with loved ones out of town," reads Kabbage.com.
And remember to get your hands on some awesome promotional gifts to promote your brand throughout the holiday season. Call Synergy Marketing at 1-877-748-9884 today!
Comments Off on 6 More Tips For Having A Hot Holiday Season