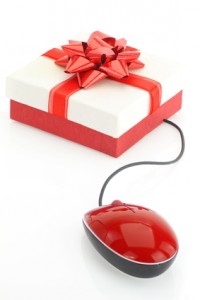 In yesterday's blog, we revisited the concept of online shopping and just how popular it has become in Canada. For obvious reasons, it's very convenient. And arguably, convenience is the top reason that it has become so popular with Canadians. Obviously, in Canada, holiday shopping is an experience that includes going out in the cold. Sometimes, this involves blistery, stormy and snowy conditions.
Online shopping helps to avoid all of that. Staying at home, keeping warm and cozy and doing your shopping via the internet is a wonderful idea for a lot of people. Does your company offer its customers the ability to shop online? At Synergy Marketing, our entire promotional products catalogue can be found on our website. Admittedly, we enjoy speaking with our customers directly over the phone once they've decided upon the gifts they want to order.
Even if they haven't yet decided, we love speaking to them to help them to make the best choices. The point, however, is that they are able to order their items without ever having to take a step outdoors. When you offer your customers the same benefit, you're bound to increase your sales. At least, this is what Gilon Miller seems to believe in an article posted on UpstreamCommerce.com.
He offers a list of benefits to online shopping based on conversations he's had with consumers. Yesterday, we analyzed four of those benefits. In today's blog, we'll round out the final four. Considering that it's the holiday shopping season, online shopping is bound to take off if it hasn't already. Today, by the way, is Black Friday. And that means Cyber Monday is next – the biggest online shopping day of the year! Here are four more benefits to online shopping.
1. Comparison of Prices. There is likely no easier way to browse than to do so online. Think about all of the time and energy it takes to go in and out of every store that you are interested in. As Miller writes, "online shops make comparison and research of products and prices possible. Online stores also give you the ability to share information and reviews with other shoppers who have firsthand experience with a product or retailer."
2. Crowds. As mentioned yesterday, crowd avoidance is one of the most popular reasons that online shopping is so well-loved. No waiting in long lineups, no search for parking spots – online shopping makes holiday shopping a dream. "Crowds force us to do a hurried shopping most of the time," Miller points out, "Crowds also create a problem when it comes to finding a parking place nearby where you want to shop and going back to your vehicle later loaded with shopping bags."
3. Compulsive Shopping. "Many times when we go out shopping we end up buying things which we do not require because of the shopkeepers' upselling skills," Miller continues, "or we'll compromise on our choices because of the lack of choices in those shops." Online shopping helps for consumers to buy what they are looking for and that's it. Saving your customers money, by the way, will be a huge plus for you this holiday season. Naturally, they'll be looking to save money. Your allowance for online shopping will help in the process.
4. Discreet Purchases. Is shopping sometimes an embarrassing experience? Let's be honest. When shopping for loved ones, we don't always want to be caught in the stores they like, that we would never frequent in general. "Some things are better done in privacy," says Miller, "Online Shops enable me to purchase undergarments and lingerie or adult toys without the embarrassment that there are several people watching me and my choices."
Synergy Marketing believes in the online shopping trend, however, we enjoy speaking with our customers over the phone directly. That means that we allow them to shop within the comfort of their homes and places of business. Our promotional products, by the way, are perfect giveaways during this time of year. Please peruse our website to learn about all of the amazing promo products that we have to offer. Or simply call us at 1-877-748-9884!
Comments Off on 4 More Reasons Consumers Love Online Shopping