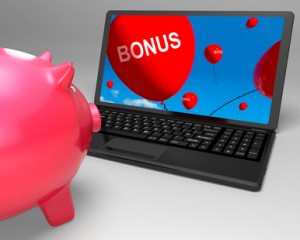 Jumping online these days is a daily routine. Long before most customers visit your store, they have already surfed the internet looking for products and services related to your industry. If you're not properly represented online, then chances are you're not getting nearly the amount of business that you're capable of getting. It's important to have a strong website. For that very reason, we recently revamped our site to better display the great promo gifts we have available.
It's also important to be active on social media. For that very reason, we regularly update our Facebook and Twitter profiles. But what can you do to not just advertise your business, but reward your customers using social media? In yesterday's blog, we looked at some ideas provided to us by Belle Beth Cooper on SocialMediaExaminer.com. In today's blog, we'd like to continue our look at that list of ideas. Here are three more ways to reward your clients online.
1. Customer-made ads. Now how can you get your customers involved in your company's advertising campaigns? Perhaps, it's all about offering them their "15 minutes of fame", suggests Cooper. Yesterday, we discussed the concept of creating contests to get your clients excited about your brand. Cooper goes on to suggest that having your customers create their own ads for your brand may be an excellent way to make them feel valued as your supporter.
But how exactly can you encourage them to advertise your business?  "Whether it's as a billboard designer, a spokesperson in a television or radio commercial or a model for your poster advertisement, offering customers their own '15 minutes of fame' is sure to be just reward for their efforts in promoting your brand," encourages Cooper. She advises that you make the requirements for your ad "clear and simple" to encourage as much involvement as possible.
2. Accept feedback. Customers like to know that their opinions matter. And, after all, their opinions should matter to you. The more you accept customer feedback and actually implement changes based on the suggestions you get, the more you'll find customers supporting your brand. It's that simple. You need to make it all about them. Rewarding them in that way will encourage them to keep rewarding you with their loyalty.
But how exactly can you implement this idea?  Cooper cites Starbucks as an example of a company that uses customer feedback to improve upon their customer satisfaction. "'My Starbucks Idea' is a platform designed to collect ideas and suggestions for improvement from Starbucks' customer base, and allow other users to vote on suggestions they agree with," Cooper writes, "The most popular ideas are then implemented throughout the coffee chain."
3. Say "thank you". Perhaps, the easiest and most simple way to reward your customers online is simply to acknowledge that you appreciate them. Follow those who follow you back on Twitter. Include their Twitter handles in your tweets. Leave comments on your Facebook page that specifically acknowledge certain customers, thanking them for their support. The simple act of saying "thanks" can really go a long way.
But in what other ways can you use this strategy?  Cooper suggests that you accept feedback forms online. You should also "monitor conversations on Twitter and Facebook about your brand, your industry and your product; and most importantly—listen." According to Cooper, "listening to your customers and implementing their ideas is where the real magic happens. If they've taken the time and effort to get in touch with you and tell you what they think, reward them by taking their suggestions onboard and find a way to execute them."
And remember, there's no better way to thank your customers than to give them free promotional gifts. To order the perfect one to advertise your business, contact Synergy Marketing at 1-877-748-9884 today!
Comments Off on 3 More Ways To Reward Your Clients Online