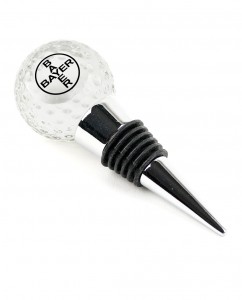 When advertising your company, it's important to consider a number of factors. The first should be a clear understanding of what you're looking to accomplish. Are you looking to boost your sales? Do you want to increase traffic to your store? Do want to expand your territorial reach? Many business owners would answer "yes" to all of these questions, but it's important to have a particular focus when planning your advertising strategies.
Using promo gifts to boost business is nothing new, by the way. In fact, promo gifts have been in use for centuries! According to the Promotional Product Professionals of Canada, "the earliest imprinted promotional product was first introduced in 1789, when George Washington used commemorative buttons in his Presidential campaign. Different from the buttons used today, these commemorative buttons were sew-on; they featured the initials GW and the words 'Long Live the President'."
If promo gifts were good enough for the first President of the United States, how could they not be good enough to advertise your brand? "Advertising calendars and wooden specialties all date back to the mid 1800's; however it wasn't until the latter part of the 19th century that a large amount of promotional products were developed and marketed," says PPPC.
But what are the best ways to use your promo products today? Here are 4 things to consider when advertising with promo gifts:
1. Consider who you are advertising to. It's important to remember that different businesses often have different customer bases. That means that, in some cases, certain promotional gifts are just bound to work better than others. For example, if you own an automotive repair shop, you may be best served to hand out a gift that will suit the specific needs of the customers that come to you for your expertise and help.
Key chains come to mind. And, at Synergy Marketing, we also offer fire extinguishers and escape knives. For more information, check out our Automotive section! "Before selecting a promotional item, it is essential to consider the nature of the user, his profile, and lastly the occasion of the giveaway," says WikiHow.com, "for example if your clients are not golf lovers it would be meaningless to gift them promotional golf accessories as company gifts."
2. Consider the occasion. Then again, golf-related promo gifts are perfect for the golf lover in your customer base. WikiHow.com also reminds us that it's important to consider certain occasions when handing out your gifts. "Suppose your company is going to sponsor a golf tournament then the best promotional items would be anything related to golf such as golf shirts, golf accessories, golf bags and so on," reads the site. Check out our Golf section for more information!
3. Consider the competition. What are your competitors giving to their customers? Are they using promo gifts, at all? If so, which ones? It's no different that learning about the products and services that they offer as well as the prices that you are competing with. Providing incentives for your client base to support you includes meeting their needs in ways that other companies are not. The same can be said for your promo gifts.
4. Consider what you want your promo gifts to say. "Decide in advance what you want to be imprinted on the selected promotional item. It can be the logo, slogan, tag line or simply the name of your company," advises WikiHow.com. This is an extremely important step as the information printed on the promo gift should serve as an excellent reminder to its recipient of how to contact you in the future.
To get your hands on the best promo products in the business, call Synergy Marketing at 1-877-748-9884!
Comments Off on 4 Things To Consider When Advertising With Promo Gifts