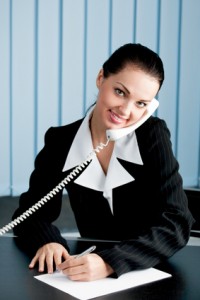 Over the past couple of days, the Synergy Marketing Blog has been focusing on improving your company's team. Generally, your business can only be successful as your employees allow it to be. The more dedicated they are to your vision, the better they will perform. We mentioned, however, that a big part of your job is to get your team on board with improving the lives of your customers. After all, who matters more to your company?
Providing excellent customer experiences is the true definition of a successful company. It's important to put customers first so that they will continue to offer their long term support. Without it, your company will find it a lot tougher to thrive. Surprisingly, "some companies simply can't be bothered to put their customers at the center of their business by prioritizing their experience," writes Rob Carpenter on Evergage.com.
Here are three effective ways to improve the customer experience:
1. Be accessible over the phone. It doesn't matter how tech-savvy and internet-crazy our world has become, people still prefer speaking to live representatives over any other type of customer service. It's important to offer your customers the type of service that makes them feel comfortable. You don't just need friendly and knowledgeable staff members. You need an easy way for them to be reached. Carpenter suggests that you offer phone consults to your clients.
He also suggests that you find ways to better know your customers. Keep in mind that the success of your company largely depends on the relationships it builds with its clients. "The lesson here is that deepening your relationship with your power users sometimes means going offline," Carpenter writes, "It means taking the time to understand how your product fits into your user's life, and recognizing them and appreciating their business in a way that is uniquely meaningful to them."
2. Personalize your product packaging. Showing your customers that you care often means adding a bit of a personal touch. While reaching out via phone to make sure that they are satisfied with your service will help out quite a bit, you may also want to find ways to personalize the way your products are packaged. Taking the time to add personal handwritten messages to go along with the deliveries of your products is one example.
"While it takes an extra minute or two, it sends the message to the customer that they are seen and heard — that their decision to give you their business is appreciated," insists Carpenter, "This is especially important during the trial phase. Taking the time to connect with the customer on a personal level creates a bond between the user and the brand that they will remember when the trial is over."
3. Give away freebies. Synergy Marketing has long championed the concept of giving away freebies to customers. And why wouldn't we? We offer the best promotional products in the business! Our many years of experience have proven that giving customers useful items for free works wonders in building loyalty, garnering referrals, growing client bases and increasing sales. Carpenter certainly agrees with this practice.
"One of the easiest ways to make customers happy is to give them something for nothing," he writes, "But there is a difference between giving away useless trinkets, and providing customers with added bonuses that bring value to their life or to their business." We couldn't agree more. This is why we are dedicated to offering high-quality promo gifts that add value to the lives of their recipients.
To order promo gifts for your company, call Synergy Marketing at 1-877-748-9884 today!
Comments Off on 3 Effective Ways To Improve The Customer Experience