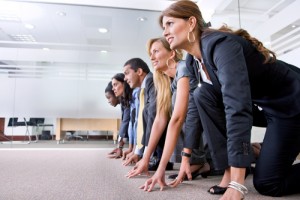 At Synergy Marketing, we like having fun in the workplace. We're not talking about the type of fun that takes our attention away from our important daily tasks. In fact, it's quite the opposite. The fun that we like to have includes friendly competition amongst our sales reps. Our employees are rewarded for their results, and because of that, they are each highly motivated to produce each and every day.
Friendly competition in the workplace helps to inspire teamwork as well. As we have covered over the course of our last two blogs, in-office competition can do a lot to increase your company's productivity. There's certainly a right way and a wrong way to go about it though. It's important that the "games" being played are the types that promote positive atmospheres, not those of hostility and resentment.
1. Be clear about the rules of the competition. It's important that each and every member of your staff feels confident about how they may be able to win a prize. "Make sure the rules of the competition are extremely clear and firm," insists GainesvilleBizReport.com, "Study the rules carefully to ensure that there are no loopholes or ways to game the system. Nothing is as de-motivating as having to give a huge prize to someone who cheated the system to win it."
2. Create team identities. One of the key objectives of creating team competitions, as we've been pointing out, is to inspire people to work together. A boost in employee morale is one of the greatest benefits of setting up your own in-office games. However, people do like to have added reasons to put forth their best efforts. Creating team identities that instil senses of pride in competitors helps for the competition to be all that more competitive.
"Research suggests that team composition works best if teams are divided by gender or have an equal gender split," writes Marilee B. Sprenger on Dummies.com, "A feeling of being a minority in any team is a problem. For instance, a team of four men and two women often results in the women contributing less. Mixed teams generate better ideas than single-sex teams. All-male teams are more likely to become overly competitive."
3. Recognize people publicly. A physical prize is great. But many employees truly appreciate the gesture that comes with public acknowledgement. Don't forget to provide praise to your competition winners in front of the rest of your team. It will go a long way in motivating all of your employees to reach similar heights. Sara Angeles of Business News Daily explains how this works for her.
"When my sales reps have an exceptional week I find that publicly recognizing their accomplishments in front of their peers is that extra little morale boost to keep pushing," she reveals, "We make sure the entire office is aware of the accomplishments of our reps by holding an 'honouring ceremony.' The highest achiever receives a custom-made crown with his or her name on it."
4. Create an in-office podium. We don't mean that you necessarily have to create an actual podium for your employees to stand on when they win competitions. Instead, we encourage you to give out prizes to more than just your first place winner. "Consider awarding multiple prizes," recommends GainesvilleBizReport.com, "It is good to have a second and third prize too, so that if one member of the team gets far ahead of everyone else, people will at least continue to compete for the other prizes."
Synergy Marketing's promo gifts work as great prizes! Call us at 1-877-748-9884 to order yours today!
Comments Off on 4 Ways To Do In-Office Competitions Right