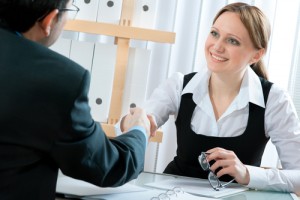 Over the past couple of days, the Synergy Marketing Blog has focused on providing tips to business owners who are looking to hire new employees. Conducting job interviews isn't as easy as you may assume. However, with the advice that we've provided, we trust that business owners across Canada will be better equipped with the tools necessary to locate the perfect additions to their work staffs.
With that said, we also mentioned that Synergy Marketing has a habit of conducting job interviews on a fairly regular basis. This is because we enjoy adding talented new individuals to our ever-growing sales staff. If you live in the Greater Toronto Area, have a strong sales background and would like the opportunity to join our team, we urge you to give us a call at 1-877-748-9884 or email info@gosynergygo.com.
Of course, making contact with us is only the first step. You will also need to prepare for a job interview. Clearly, it will be important that you make a good impression. Proper preparation for job interviews goes a long way. That goes for both participants. The interviewer needs to be just as prepared as the interviewee. But how can you properly prepare for your job interview? As always, the Synergy Marketing Blog has the tips you need!
Here are two smart ways to properly prepare for job interviews:
1. Research the companies that you're applying to work for. It's important to know a little something about the business you plan on becoming a part of. Synergy Marketing provides Canadian business owners with the best promotional products in our industry! There…now you know a little bit about us. But that certainly doesn't tell the whole story. Take a look at our company website and get to know the types of products that we sell.
"Depending on available time, use every possible means to learn all you can about the company and position," advises Louise Giordano on QuintCareers.com, "Go online to the company's Web site as well as competitors' sites. Use investor Web sites to learn what's happening now in the news with this company and its competitors. Use bizjournals.com to find business news by industry and/or location."
2. Be prepared to talk about yourself personally. It's great to present your interviewer with information that includes a litany of professional skills that you possess. But, it's just as important to present yourself as someone who will be enjoyable to work with. Arguably, your charming personality is as valuable as your skill set. Don't be afraid to open up about yourself as you may be asked about such things as your personal interests.
"Be ready to answer typical interview questions with a story about yourself," warns Doug Hardy on Monster.com, "To prepare, write down and memorize three achievement stories. Tell about times you've really felt proud of an achievement at work or school. These stories demonstrate all those hard-to-measure qualities like judgment, initiative, teamwork or leadership. Wherever possible, quantify what you've done."
Be sure to check back for tomorrow's blog as we continue to research this subject. With the fourth quarter of the year about to begin, many businesses will be looking to bolster their staffs in order to ready themselves for the impending increase in shopping over the next few months. Preparing for your job interview now will put you in a better position to secure the job that you're looking for.
Comments Off on 2 Smart Ways To Properly Prepare For Job Interviews