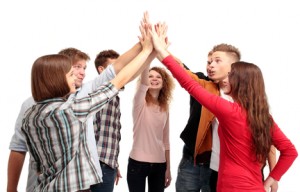 Halloween is here! Well, almost. Tomorrow is the big day when people will be all dressed up looking to either party (see: adults) or locate as much candy as possible (see: kids…and adults). It's all about tricks and treats when it's time for Halloween. But, in most cases, it's the treats that most are after. In yesterday's blog, we pointed out that there is another type of "treats" that business owners need to pay attention to.
How a business owner treats his or her employees is a pretty big deal. When you have people working for you who truly enjoy coming in to work every day, you're bound to have a very productive and successful business. Yesterday, we noted that empowering your employees with responsibility, encouraging them to overcome fears and offering fair compensation are great ways to treat your employees right.
But what can you do to truly make your employees feel like they're being treated with all of the respect, appreciation and consideration you can give them? How about hiring more employees who they'll enjoy working with? After all, people very often make friends at work. The people they see on a daily basis are often a big reason why they enjoy coming to work each day. So, be sure to hire individuals with great attitudes.
This past Major League Baseball season, our beloved hometown Toronto Blue Jays (yes, it's still hard for us to accept that they are out of the postseason) added a number of incredible players to their team. It was often said among sportscasters, members of team management and even players that the best part about the new additions to the team was that they were all "character guys".
That means that, not only were they talented baseball players, they were excellent people. This made for great chemistry among teammates. Many members of the organization heralded the club's General Manager, Alex Anthopoulos for going after players who added to the overall positive atmosphere in the clubhouse. This is one of the strategies you should employ when hiring new staff members.
Remember that talent alone is not going to improve your business. Creating a team out of good-natured people who enjoy working in group settings is going to take your brand a lot further. To make your current employees feel even better about working for you, surround them with people who they enjoy working with. According to Success Resources, you should "hire and fire employees on attitude, not ability."
"There is no cure for a bad attitude and no training that can change it…and it's highly contagious," says the website, "You're better off cutting out the infection before it spreads throughout your organization." Why would you want people with bad attitudes to work for you anyway? Keep positive attitudes in mind the next time you're in the hiring process. Your business will greatly benefit from it.
In our experience, employees greatly benefit from being given free promotional gifts. To help generate positive attitudes at your business, hand out useful and handy company promo gifts. To place your order, contact Synergy Marketing at 1-877-748-9884!
Comments Off on The Importance Of Positive Attitudes At Work