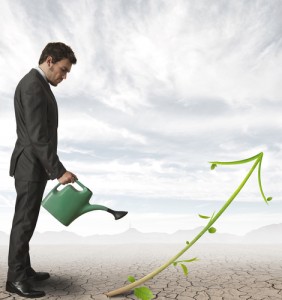 In yesterday's blog, we revisited that ever-popular topic of growing your business. At Synergy Marketing, we specialize in low-cost solutions for business growth. Our cost-effective promo gifts, of course, are prime examples. However, our blog is also adept at listing a number of budget-conscious solutions to taking companies to the next level. Let's pick up where we left off yesterday, shall we?
Here are three more sound solutions for growing your business:
1. Add value to the lives of your customers. People don't just want to go home with good products. Sure, getting a quality product is the initial objective when selecting an item to buy. But people also enjoy knowing that they can depend on certain brands to solve their problems. This is where developing strong relationships come into play. It's important that you know what your customers need and how your company can meet those needs. This is how you add value.
"Providing value in the lives of your customers is extremely important when thinking about creating lasting business success," says Matt Mayberry on Entrepreneur.com, "If you are not changing or adding extreme value to your customers' lives, your business will hit 'stall mode' very quickly. The stall mode is when you truly believe you are doing everything right and working extremely hard, but the results and success aren't present to show for it."
2. Take time to address your emotional state. In all of the lists of tips that we've provided over the years, we sometimes forget to address the mental and emotional impact of assuming the role of business owner. That isn't done purposely, as we know just how tough a grind it can be to be so focused on business all the time. One way to help improve things at your company is to take time to improve your own state of emotions.
"Take a few moments to assess the day's emotional challenges," insists the Reader's Digest website, "Almost as important as your to-do list is a 'be prepared for' list. Inventory the tough phone calls, boring meetings, challenging customers, frustrating red tape, infuriating rush-hour drives, droning detail work, and other challenges you may face."
3. Make customer service your top priority. We've said quite a lot about providing high-quality products over our past few blogs. And there will always be a lot of emphasis placed on product quality. That should go without saying. However, it's also a well-known fact that it doesn't matter how good your products are, if your customers are unhappy with your service, they will not likely return to your place of business.
"It boggles my mind when I see a business pay more attention to what they think is right rather than to what the customer has to say," reveals Mayberry, "Listen, we all make mistakes and some of the best business people fall into this category as well. If a customer isn't satisfied or happy, you have to do everything in your power to make that customer happy…Even if your customer was the one who was wrong, take the initiative to fix things and correct them immediately."
Synergy Marketing's promo gifts are well known for helping business owners to grow their businesses. Don't forget to place your order for the promo gift of your choice by calling us at 1-877-748-9884 between 9am to 5pm EST or by emailing us at info@gosynergygo.com!
Comments Off on 3 More Sound Solutions For Growing Your Business