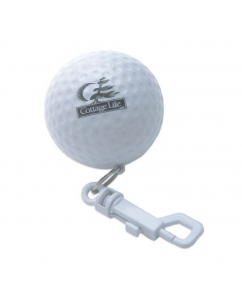 If you're a business owner, you don't need to necessarily like the sport of golf in order to know its importance in the business world. A lot of business happens on the golf course. And this is why many an entrepreneur will take up the sport so that they can conduct important business meetings on the green. The fact that golf is such a well-beloved sport amongst businesspeople is one that should be taken advantage of by company owners when considering the types of promo gifts to hand out.
At Synergy Marketing, we have a wide variety of golf-related promo gifts that make for wonderful gestures when they are handed out to recipients. Especially if your business partners, suppliers and other colleagues are the types to enjoy playing the sport, you'll find that handing out our golf-related gifts can go a long way in building your relationships. The next thing you know, you'll be teeing off with a new friend-slash-business associate!
What types of golf-related gifts are offered by Synergy Marketing? Well, let's begin with our clever Golf Tee Set. This is our most cost-conscious golf-related gift and it also happens to be among the most practical. It contains no less than 12 tees (six red and six white) and comes in a convenient holder that doubles as a key chain. At only $3.95 each, these sets make for the perfect gifts for those planning on hitting the green this summertime.
We also carry a Golf Ball Poncho. It's a golf ball with your company name and logo on it, which is actually a container for a fold-out one-size-fits-all poncho. Great for taking to the golf course in the event of a rain shower, the poncho comes with a belt clip, making it very easy to carry around with you. The Golf Ball Poncho is also a cost-conscious choice at it goes for just $5.95 a piece.
Our Golf Accessories Set is also a favourite promo gift amongst golf-lovers. Also just $5.95 each, this awesome gift is an oversized golf ball case that contains five tees and two ball markers. The golf enthusiast among your colleagues or in your customer base will love this gift as it is one that can be taken with him/her each time he/she takes a trip to the golf course.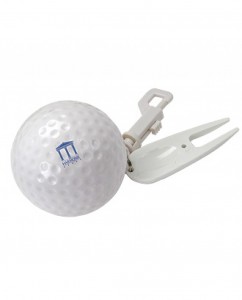 How are golf-related promo gifts effective at building business relationships? As mentioned earlier, a lot of business is conducted on golf courses. Giving out golf-related gifts may increase your chances to drum up conversations about future golf games that could put you in a position to grow your business relationships. Even if you don't wish to play golf yourself, the fact that your gift recipients will have constant reminders of your business when they play golf can only improve the reputation of your brand.
Are there more golf-related promo gifts to choose from? There sure are! Synergy Marketing also offers Golf Towels that come in blue, green and grey colours. We also carry the very fashionable Protour™ Executive Golf Clip which is a multi-tool that includes a golf spike wrench, divot tool, ball marker and cigar cutter. It comes in a waterproof case with a clear lid and interior form-fit mold for protection and easy identification.
And the list doesn't stop there! Learn more or place your order for the golf-related promo gift of your choice by calling Synergy Marketing at 1-877-748-9884 between 9am and 5pm EST or emailing us at info@gosynergygo.com! You can also sign up for our Insider E-Flyer Program HERE!
Comments Off on What Makes Golf-Related Promo Gifts So Great?