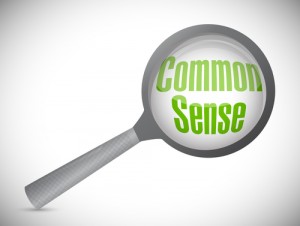 In yesterday's blog, we revisited the concept of small business marketing and offered up a number of ways that small business owners can effectively advertise their brands. The way we see it, some of the most sensible and easy-to-do advertising strategies are the ones that cost the least amount of money to pull off. And they just so happen to be among the most effective as well! In today's blog, we'll focus on a few more common sense advertising ideas.
Here are three:
1. Focus on being original. One of the biggest mistakes that small business owners can make in their marketing efforts is to try to copy what other companies are doing. This is especially true if the company being mimicked is much larger than your own. Don't pretend to be something you're not and don't pretend that your business is bigger than it is. As Dan Einzig of The Marketing Donut suggests, you should try to carve out your own distinctive identity.
"There is a big consumer trend towards independent establishments, and several chains are in fact trying to mimic an independent feel to capture some of that market," he informs, "Truly independent operators can leverage their status to attract customers who are looking for something more original and authentic, that aligns with how feel about themselves."
2. Create a referral program. It should come as no surprise that most entrepreneurs consider word-of-mouth promotion the most effective type of advertising that a business can have. And that's because most customers feel that word-of-mouth promotion is the most trustworthy type of advertising they can receive. On Wordstream.com, Megan Marrs advises that you encourage your loyal customers to recommend your store to others.
The best way to do that, of course, is to incentivize them with perks for doing so. "Offer existing customers a free product, free month of service, or some other reward for referring new customers," she suggests, "Remember, word-of-mouth is powerful stuff, so friends telling friends about your business is incredibly valuable."
3. Be careful about going too heavy on the discounts. Many small business owners fall into the trap of thinking "as long as I can offer low prices, customers will come running." It's true, of course, that people like to save money. But there's no good reason to implement a marketing strategy that ends up hurting your bottom line. As well, many consumers associate low prices with low quality.
Don't give your company a bad impression by continually pricing your items too low. Einzig certainly believes in this philosophy. "Don't lose your pride or dilute your brand positioning with indiscriminate discounting," he insists, "Try offering more, rather than slashing prices. Promotions are an opportunity to reinforce your brand mission."
As you know, Synergy Marketing highly recommends the giving out of branded promotional gifts. For many years, they have proven to boost sales and grow customer relationships. To place your order for the promo gift of your choice, call Synergy Marketing at 1-877-748-9884 between 9am and 5pm EST or email us at info@gosynergygo.com! You can also sign up for our Insider E-Flyer Program HERE!
Comments Off on 3 Common Sense Advertising Ideas For Small Business Owners