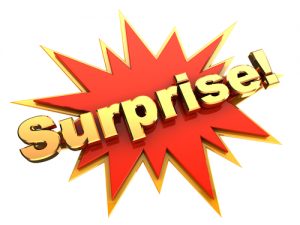 In our last blog, we revisited the concept of giving out freebies and the incredible impacts they can have on your customers. If you're looking to significantly stand out from your competition, giving out freebies can certainly do the trick. As you know, Synergy Marketing has been in the business of providing Canadian business owners with fantastic promo gifts for many years. Using them as free giveaways, our clients have greatly improved their rates of customer satisfaction.
This is because getting things for free generally comes as a surprise to customers. Freebies offer that "wow" factor that helps to separate one brand from the next. There are, of course, numerous ways to surprise your customers. And many of them come with offering up perks and benefits that won't cost your customers anything extra. Implementing these practices can definitely help you to grow your client base and keep it loyal.
Here are three cool ways to surprise your customers:
1. Waive the extra charges. There are few things that customers like hearing more than "I'll go ahead and waive those charges for you". You can place the concept of charge-waiving in the same category as giving away freebies, as it serves as a way to save your customers money. Who doesn't love that? "Waiving the extra costs is a great way to delight your customers as well as build loyalty," says Rupesh Patel on LinkedIn.com.
2. Check in with them. Don't assume that the customer interaction is over once he/she leaves your store. There is still an opportunity to continue the connection. Did you receive an email address or phone number upon having the customer make his/her transaction? Ensuring that you do so will help for you to keep in touch with your customers in the future. This fosters strong growing relationships.
"Imagine the impression a business would leave if after buying your first set of golf clubs, you got an automated email from 'Jim' asking you how they were treating you, and if you've been able to hit the driving range yet?" poses Gregory Ciotti on Shopify.ca, "Pretty powerful stuff, and all hinging on the very frugal cost of a personal follow-up email. This is also useful for birthdays, holidays, or even better, some other personal event that you learned about from a customer."
3. Take time to make personal connections. There's a big difference between simply saying "hello" to people who walk into your establishment and taking the time to introduce yourself. When you meet new customers, be sure to offer your name and ask for theirs. That way, you'll hopefully be able to greet them personally the next time you see them. Customers remember the efforts made by business owners to get to know them.
Patel champions the concept of spending time with your customers to get to know them personally. "When guests walk into your lobby, they expect that you won't spend a whole lot of time with them," he writes, "Take them by surprise by really getting to know them, listen and then recommend local hot spots or your favourite restaurant. Just get to know your patrons."
Be sure to check back for tomorrow's blog as we go into greater detail about how you can make those personal connections with your customers. And don't forget that giving them freebies is always a great way to do just that! To place your order for the promo gift of your choice, call Synergy Marketing at 1-877-748-9884 between 9am and 5pm EST or email us at info@gosynergygo.com! You can also sign up for our Insider E-Flyer Program HERE!
Comments Off on 3 Cool Ways To Surprise Your Customers