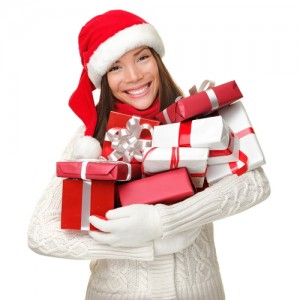 Promo gifts work wonders all year long. But, especially during the current busy holiday shopping season, they can prove to be the most effective advertising tools you can use. The more customers you have visiting you, the more opportunities you have to entice them to keep coming back. Promotional products have been known to do that for a very long time. They often serve as daily reminders of where to shop.
There are, of course, numerous other ways that small businesses can compete with the big boys. It's important to keep in mind that not every shopper is interested in pouring more money into large corporations. As a small business owner, it's important to implement smart marketing strategies that appeal to your customer base. If you own a retail store, there are some creative ways you can boost sales over the next week and a half!
Here are three:
1. Create holiday packages. Maybe the products you sell aren't generally the types that are considered for holiday presents. That doesn't mean that they can't become holiday presents. It's as simple as creating a package, gift box or gift set out of the products you have. Advertise the fact that they are being sold as a bundle for a special discount during the holiday season. This will entice more people to look to your store for gift ideas.
On Shopify.ca, Shilpi Tomar champions this idea. "You'll be relying on your loyal customer base to come to you for a one-of-a-kind gift set which will take some work off your already-busy customer's hands," she writes, "You can pre-package best-selling items ready to gift in beautifully designed cases, gift wrap, and boxes. The key here is to make sure the packaging is exciting enough for the shopper to want to gift as is."
2. Utilize social media. If you've been keeping up with the Synergy Marketing Blog, then this tip should come as no surprise to you. Truthfully, it doesn't matter what time of year it is. Social media is always all abuzz with the latest news and trends. Being active on your social media accounts throughout the holiday season will be an effective (and free!) way of advertising your business in an effort to boost sales.
Tomar particularly advocates the use of Pinterest. "When used right, social media tool Pinterest is one of the most powerful tools to sell online and in-store," she believes, "Major brands are using Pinterest by hosting contests, using rich pins, and even going cross-channel by including tags of most-pinned items in-store."
3. Offer freebies. We don't have to remind you about how effective promotional gifts are during the holiday season. Or do we? Keep in mind that people always love getting things for free. Remember that you can also add a sample of one of your products to the whole "freebie" campaign that you employ during the holidays. Giving your customers chances to sample your products is a great way to entice them to buy.
"People love free stuff no matter what it is, and chances are if they are shopping or using your business, they already like your products," writes Madie Hodges on Kabbage.com, "Offering samples of products with purchase is a great way to incentivize people to keep buying. Giving your customers freebies also makes them feel valued and important. It is a great way to give back to them and show how much you appreciate them."
Be sure to check back for tomorrow's blog as we continue to offer creative ways to boost your sales this month. And don't forget to Synergy Marketing a call at 1-877-748-9884 to order the promo gifts of your choice to advertise your business!
Comments Off on 3 Creative Ways To Boost Sales This Month