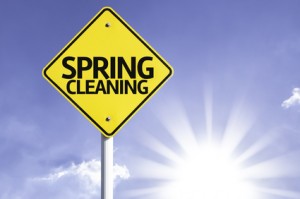 In the City of Toronto – where Synergy Marketing is proudly headquartered – it doesn't exactly feel like spring yet. We know that warmer weather is on the way. But we'd sure like for it to hurry up! Have you had enough of winter as well? If so, there are some things that you can do for your business to rid it of the winter blues. And what better way to do that than some spring cleaning? Yes, spring cleaning shouldn't just be left to residences.
The advent of spring is the perfect time to clean things up at your business. "It's exactly like regular spring cleaning except it involves way less elbow grease and a lot more professional evaluating," says Forbes.com, "Okay, so it's nothing like regular spring cleaning." What it is, in fact, is recharging your business with a new energy and attitude that will help it to achieve greater success than in months past. Here are three great ways to do that.
1. Freshen up your online presence. At Synergy Marketing, we're happy to say that we jumped the gun on this one. Just before spring started, we revamped our website to give it a cooler, sleeker and cleaner look. We also introduced some new products and ensured that our product pages looked a whole lot better by adding amazing new photos. We also made sure to spruce up our Facebook and Twitter profiles with our updated business logo.
"Go through and take stock of what your online presence is like," suggests Forbes.com, "Is there some copy on your site that could be rewritten to sound better or more accurately reflect slight shifts in your target market, or what kinds of services you are focusing on now? Is your brand being represented as effectively as possible? Now is a good time to tighten things up and fix up all the little details that, although they don't take a lot of effort, make a big impact."
2. Strengthen your staff. Forbes.com assures that it is not encouraging anyone to go on a firing spree. But sometimes, a little trimming of the fat is necessary. It may sound a bit harsh to use such a euphemism when it comes to people who work for you, but it's important to be abreast of issues within your company that exist at the hands of less-than-stellar employees. Let's face it – we've all had experiences with them.
According to the website, "it's smart to take a minute to reflect on what needs your company has, which roles are being filled well, which ones could possibly be better executed, which ones are no longer as crucial per changes in how your company operates, and which new needs might necessitate redistribution of staff responsibilities or role definitions, or might require hiring one or two new people entirely."
3. Update your business plan. In yesterday's blog, we commented upon the importance of having a sound business strategy. And one of the ways we suggested you do that is by focusing in on a primary goal for your business. However, as time passes, your objectives may change. There may be some opportunities for your business to grow in new directions when you reassess what it is you're trying to achieve.
Forbes.com recommends that you revisit your business plan at least once a year. Sometimes, reminding yourself of your original objective is all you need to encourage you to motor through to the next stages of accomplishing your goals. Perhaps, no change is necessary at all. But it's important to be mindful of your goals so that you don't lose sight of how to reach them. It will help to keep you as focused as you were when you started your business.
Be sure to check back for tomorrow's blog as we continue to analyze ways that you can do some spring cleaning at your business. And for any questions about our fantastic promo gifts, don't hesitate to call Synergy Marketing at 1-877-748-9884.
Comments Off on 3 Great Spring Cleaning Ideas For Your Business