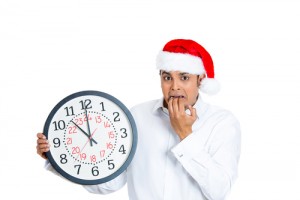 The big week is here! Christmas Day is this Friday and people all over Canada (and most of the rest of the world, we would imagine) are preparing for the big day. And by "preparing", we mean that there is a lot of last minute shopping left to do. If you happen to be one of those procrastinators, you can certainly be excused. As a business owner, you have likely been so busy managing your own company and preparing it for the holidays that you haven't gotten to do much shopping of your own just yet!
Don't fear. With four shopping days left until Christmas, there is still time for you to locate and secure great gifts for your loved ones. You'll need a plan, however. In today's blog, we'll provide you with the tips you need to knock your holiday shopping out in a much easier way than you may have expected. It will start, of course, with giving yourself some time to shop.
But how can you make the most of that time? Here are three helpful last minute holiday shopping tips:
1. Make a list. Just because you're about to embark on some last minute shopping doesn't mean you have to go about it hastily. It's probably safe to say that you don't want to go over your budget and you certainly don't want to pick up gifts that aren't worthwhile for their recipients. Creating a shopping list keeps you focused on what you need to buy and for whom. It will also help you to waste a lot less time looking around for the right purchases.
On FamilyEducation.com, Lindsay Hutton advocates for making a list and checking it twice. "One of the biggest traps of last-minute shopping is going over budget," she asserts, "Before you brave any store, make a list of how much you'd like to spend on each person you are buying for, and stick to it. Resist the urge to keep shopping for the perfect gift, and leave the store as soon as you've crossed everyone off your list."
2. Stick to your budget. It will defeat the purpose of writing a list if you don't pay attention to what's on it. Not only should you focus on buying the gifts that you know your loved ones will enjoy, but you should also be focused on spending within your budget. Holiday shopping isn't all that much unlike marketing your business. It's important to spend your money wisely in order to feel that you've received maximum benefit.
On CanadianLiving.com, Renee Sylvestre-Williams champions this view. "Try your best to stick to your budget despite any pressure or stress," she writes, "You'll feel pleased and proud when you don't get a massive credit card bill in the New Year. The best way to stick to your budget is to bring the right amount of money with you when shopping and not carry your credit or debit cards. There's no reason to keep temptation in your wallet."
3. Look for expedited shipping. What if you don't have time to hit the mall? Does that mean none of your loved ones will be getting anything for Christmas this year? Not necessarily. Online shopping is still a viable option. However, it will be very important to look for expedited shipping options. Many websites offer one-day deliveries, knowing that Christmas Day is drawing near. Look to shop with those that offer this option.
Sylvestre-Williams reveals that, due to the often-large costs of expedited shipping, you may also want to go the route of buying online coupons that offer significant discounts on highly sought-after items. "Consider making use of group buying sites like WagJag (WagJag.com), TeamBuy (TeamBuy.ca) and Groupon (Groupon.com)," she suggests, "All have holiday sections where you can buy gifts at a discounted rate and just print off the coupons to give on the day itself."
Be sure to check back for tomorrow's blog, as we continue to offer some helpful last minute holiday shopping tips! And don't forget to call Synergy Marketing at 1-877-748-9884 to order the best promo products to advertise your business. Our office will remain open until midday, Wednesday, December 23rd to take your orders!
Comments Off on 3 Helpful Last Minute Holiday Shopping Tips