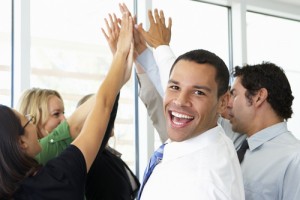 Well, they've done it! The Toronto Raptors are headed to the Eastern Conference finals for the first time in team history. The road to get there was certainly made interesting, as the Raps took their second round series with the Miami Heat to the seventh game. Following their 116-89 victory in Game 7, they're now moving on to face LeBron James and the favoured Cleveland Cavaliers in a series that begins tomorrow night.
Now, there are a lot of people already writing the Raptors off. James and his Cavs, after all, have been sweeping their way through the NBA Playoffs thus far and as the number one seed in the Eastern Conference, are generally expected to breeze right into the NBA Finals. And although fans of the Toronto Raptors have other ideas, there is an acknowledgment that this is the best Raptors team in history, regardless of the outcome of the next series.
And that's something to be celebrated! How do you celebrate the successes of your team? Here are three ideas:
1. Speech! Speech! Speech! Any time there is an occasion worth celebrating, it usually involves a speech of some kind. If your business has recently enjoyed a success, you may as well take the opportunity to give that big speech. Acknowledge everyone on your team for their jobs well done. Take the time to reflect on how hard you all worked and why it is worth commemorating the occasion with a celebration.
On Chron.com, Amy Guettler writes that it's appropriate to give a speech about your team's recent accomplishments. "Before beginning whatever celebration you have in mind, make a brief speech about why everyone is celebrating," she advises, "Detail the success of the company, and take the time to point out and thank key players. Recognition of success goes a long way toward making an employee happy."
2. Throw out praise at a team meeting. Sometimes, it's the simplest of acknowledgements that can mean the most to people. At the team meeting following a particularly successful day at work, be sure to offer your sincere congratulations to those members of your team who have exceeded expectations. It's important that your staff members know that their contributions matter to the overall success of your brand.
"From offering congratulations to a sales member for their impressive lead generation technique to acknowledgement for extra hours put in by the team as a whole, informal and formal recognition is key," says Marisa Negri on DigitalistMag.com, " Whether you dish out specifics or hand out general kudos, your team will know that their efforts were appreciated. This is also a good practice to applaud the success of members who work virtually so they feel like a part of the team as well."
3. Hand out awards to top performers. It's important for us to reiterate the need to publicly acknowledge jobs well done. Take the opportunity to hand out awards to some of the top performers on your team. Not only are they deserving of the praise that helped your company achieve its latest victory, but the awards will incentivize other members of your team to step up to win such awards in future.
"Give out awards to top-performing workers, and do it in front of the entire staff," insists Guettler, "This can include anything such as employee of the month, best innovator, customer service excellence, top salesperson and strongest team player. Have the winner's names – as well as the recognition they've won – engraved into an attractive award or trophy. You can be guaranteed those awards will figure prominently in the winners' self-esteem as well as in their offices."
The promotional gifts offered by Synergy Marketing have often been used as office rewards. To place your order for the promo gift of your choice, call Synergy Marketing at 1-877-748-9884 between 9am and 5pm EST or email us at info@gosynergygo.com! You can also sign up for our Insider E-Flyer Program HERE! And be sure to check back for tomorrow's blog as we continue to look at ways to acknowledge your team's latest victory
Comments Off on 3 Ideas For Celebrating The Successes Of Your Team