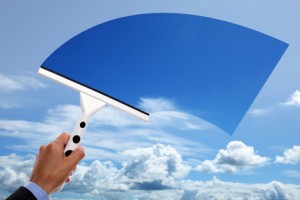 Well, hello April! So nice of you to arrive. If you wouldn't mind bringing along the weather that your month is generally known for, we'd all very much appreciate it! As a Canadian, you sometimes have to understand that the weather can be unpredictable. But as a Canadian business owner, it's always important to be mindful of the changes that you can make when the seasons transition from one to the other.
Seasonal changes are great times for introducing new promotions. Special "spring sales", for example, easily come to mind as ways to welcome new customers into your stores. Another way to boost sales is to do a bit of "spring cleaning" for your business. As we stated in yesterday's blog, there are number of ways that you can "spring clean" in order to grow your success in the coming months. Here are three more ideas.
1. Revisit your long-term goals. At the conclusion of yesterday's blog, we noted the importance of updating your business plan. According to Forbes.com, reassessing your goals is a commitment you should make to your business at least once yearly. Don't forget about your long-term goals, insists the site. With the passing of time, things change. Therefore, you may need to change your outlook on how to run your business.
"You might find that your expectations, needs, and ambitions are different than they once were," says the website, "Maybe your concept of how your business should evolve has changed, or your perception of how the company will look down the road. It's totally okay for your goals to change – but you have to be aware of that. If you determine that the overarching aspirations are the same, check in on your progress towards achieving them. What could you be doing more of?"
2. Organize your emails. Here is where spring cleaning for your business begins to take on a similar look as the spring cleaning you do at home. Neatening things up a bit never hurt anyone. And it certainly won't hurt for you to delete some of that junk in your inbox and return those messages you may have overlooked, thanks to your busy schedule. Depending on the number of emails you have, this may be time consuming. But it will be worth it in the long run.
"Clear a whole afternoon, pound some caffeine, and go nuts," encourages Forbes.com, "If the whole thing is simply too overwhelming, or your know that your brain just isn't naturally that strong at implementing complex organizational systems, hire someone to do it for you. It's a relatively minor expense that will improve your work zone feng shui and make your entire communications methods feel infinitely more manageable."
3. Clean your office. Now here is where spring cleaning for your business takes on the exact same approach as spring cleaning at home. It is often said that a cluttered workspace makes for a cluttered mind. You may be surprised how effective a little bit of organization can improve your work day. Take the time to throw garbage out, file important papers, put supplies back in their drawers and wipe down your workstation with disinfectant cloths.
Not to mention, you may want to get the vacuum out if you're not prone to looking behind desks and under tables. You'd be surprised what accumulates in these areas when they go unnoticed. A new and improved office will help both you and your staff to function better on a daily basis. And hey, once your office is clean, you may want to decorate it with promotional gifts that bear your company's name and logo. Offer them to your staff as incentives. They work wonders in boost employee morale.
And you know who to call to order the best promo products in the business, right? Contact Synergy Marketing at 1-877-748-9884 today!
Comments Off on 3 More Ways Spring Cleaning Can Benefit Your Brand