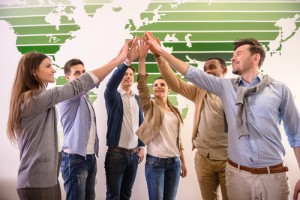 It's been an exciting week in the world of Toronto sports this week. As we've been blogging about in recent days, the Toronto Raptors are now in the third round of the NBA Playoffs. As per usual, the Synergy Marketing Blog has taken a look at the parallels between pro sports and Canadian small businesses. Both industry types require excellent performances from teams in order to achieve success. And both industry types deserve to celebrate those successes!
Here are three more ways to celebrate your team's recent success:
1. Create a "wall of fame" in the office. When you've acknowledged the excellent jobs performed by the members of your staff, it's important for the acknowledgment to not be a one-off. Setting up a "wall of fame" complete with employee pictures and blurbs about their accomplishments is a great way to keep the good vibes going in the office, after you've achieved a particular business goal.
On DigitalistMag.com, Marisa Negri recommends that you set up a "brag board". "If you think your team has done something worthy enough, 'brag' about their success on a designated board in the break room or somewhere for the entire company to see," she suggests, "Documenting a success story helps your team realize their value and motivates them to work just as hard (if not harder) for the next project."
2. Throw an office party. When professional sports teams win series, they often have a big party in their locker rooms. (To be honest, we find this to be the case in most sports except basketball). This isn't to say that you should be dousing any of your employees in champagne. Instead, take an approach more in keeping with your line of work and take your team out for a dinner, picnic or other fun-filled celebration.
"Whether it's a family-friendly picnic or an elegant night out on the town, taking the celebration out of the office supports how special you want your employees to feel," says Amy Guettler on Chron.com, "It's also a great way for co-workers to interact, chit-chat, revel in their success or just relax together as a team in a new environment — a great way to build teamwork and motivation to achieve more."
3. Throw some extra perks the way of your employees. Money is great, of course. Food is nearly as good. Perhaps, third in line are the perks that come along with working for you. That could include a better parking space (for, at least, a limited time) or even some high-end gifts that clearly demonstrate your appreciation for your team's hard work. Negri agrees that it's a good idea to "perk it up from time to time".
She suggests that you "offer meaningful rewards that can be catered to an individual's preference. This can range from Starbucks gift cards to longer lunches or the ability to leave early on a given day." We would also suggest offering some of your high-end promotional products as gifts to your top performers. At Synergy Marketing, we have a long list of great promo gifts to choose from.
To place your order for the promo gift of your choice, call Synergy Marketing at 1-877-748-9884 between 9am and 5pm EST or email us at info@gosynergygo.com! You can also sign up for our Insider E-Flyer Program HERE!
Comments Off on 3 More Ways To Celebrate Your Team's Recent Success