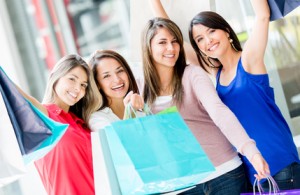 You're in business to make money. That much is obvious. But you can't make money unless you have customers to support your brand. Therefore, your line of thinking should change just a little bit. You're in business to make customers happy. That's the way you should think! If you're working to improve the lives of those who do business with you, your business is bound to succeed. And naturally, making money will be the result.
What are the best ways to make customers happy? In yesterday's blog, we took a look at a few ways that included being accessible over the phone, personalizing your product packaging and giving away freebies. With some insight from Rob Carpenter of Evergage.com, we detailed some effective ways that you can improve the customer experience at your business. In today's blog, we'll continue to analyze his excellent advice.
Here are three more ways to impress your customer base:
1. Anticipate problems that may arise. No one is saying that you need to be psychic. But you know your business better than anyone, don't you? And you should certainly know your customers. Knowing what problems may arise in the future is a great way to have a solution ready well in advance. This will go a long way in making your customers happy, as you will be seen as a quick problem-solver. Obviously, that makes your business look good.
"By staying one step ahead of the customer, not only are you able to proactively solve problems and create a seamless customer experience, you are able to plan your customer outreach and personalize it," says Carpenter, "Being proactive allows you to remain in control at all times of the user's brand experience." As mentioned, no one knows your business better than you do. So no one should be able to fix problems quicker than the person who knows it best.
2. Publicly praise your customers. As mentioned in yesterday's blog, we live in a tech-savvy, internet-crazed world. And although people still enjoy speaking with live representatives over the phone, they also vastly enjoy communicating via social media. It's important for your business to be represented through social media profiles and for your accounts to be very active. Carpenter actually insists that you "make people famous"!
He advises business owners to highlight their favourite customers through their social media pages, such as Facebook and Twitter. You can also use your website and its blog to praise your favourite clients. "Most people love to be publicly recognized, and giving a user a moment in the limelight is a powerful way to turn them into a brand ambassador and life-long customer," writes Carpenter, "For your other users, it demonstrates a customer-focused attitude and goes a long way towards creating a sense of community, which can be appealing to new users."
3. Make online purchasing easy. Do you have repeat customers? All successful businesses enjoy the ability to rely on customers who have shown their loyalty. Carpenter writes that you should have your website encourage repeat orders by making the online purchasing experience very easy. You can do this by making it so that information about previous purchases automatically pops up when a returning visitor is making an online purchase.
"When a user comes to your website, make it easy for them to build on past experiences by highlighting previous purchases or interactions," he advises, "As a user, when your preferences and past actions are remembered by the site, not only is your experience easier, it also makes you feel valued and appreciated." At Synergy Marketing, we greatly value and appreciate our customers. And we'd like to make you one today!
Give us a call at 1-877-748-9884 to discuss branding our promo gifts with your company logo!
Comments Off on 3 More Ways To Impress Your Customer Base