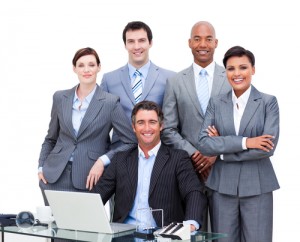 In yesterday's blog, we revisited the topic of happy employees and highlighted their importance to your business. Not only are happy employees the most productive kind you can have, but when your staff is excited to work for you, your customers will take notice. Optimum customer service is pretty much a guaranteed result of employing happy people. So what are some other ways that you can make sure you're employing a happy staff?
Here are three more to consider:
1. Lead by example. It's an age-old piece of advice, but it is entirely relevant and worthwhile to heed. Most employees will not follow through on their commitments to their jobs if the people in charge aren't doing so themselves. Happy employees are proud employees. It's important to give your staff members reasons to feel like it is worth it to work for your company. Show them exactly what you expect from them by never slouching on your own dedication to excellence.
"The manager sets the tone for the office, so one of the best ways to get your employees excited is by being excited yourself," advises Annette Hazard on Under30CEO.com, "If your employees see that you are uninterested in what you are doing then they are going to care little about their own work. Not only act excited about your work, but be serious about it. Your employees will take note and act accordingly."
2. Don't allow your managers to hurt your brand image. We've all had experiences with office managers who simply make work harder than necessary. If you have anyone in positions of power who may be bringing down the energy of your office, it's time to make a change. The people who manage your office have a huge impact on the happiness of the employees who work for you.
"People don't quit companies; they escape lousy managers," says Verne Harnish on Fortune.com, "One recent survey showed that 65% of workers would prefer a new boss over a raise. If your team is underperforming, take a close look at how your lieutenants manage their direct reports. Do they know how to coach your employees so that they can excel — or make the people around them feel alienated and stupid? If it's the latter, get them into management training ASAP."
3. Publicly acknowledge jobs well done. "Besides just giving them a check, you should also recognize good effort and performance from your employees," encourages Hazard, "For example, when you have someone that reaches a specific sales goal, give them service awards and recognize them in front of everyone. Having some kind of an awards banquet may also be a good idea to recognize your top performers."
Everyone enjoys the feeling of being appreciated. Your staff works hard. When certain members perform exceptionally well, it's only fair that they are acknowledged for it. This is another way to use Synergy Marketing's promotional gifts. Offering prizes, gifts or rewards for special accomplishments gives employees extra motivation to perform at their best. And you know where you can get the best promotional gifts in the business, right?
To place your order for the promo gift of your choice, call Synergy Marketing at 1-877-748-9884 between 9am and 5pm EST or email us at info@gosynergygo.com! You can also sign up for our Insider E-Flyer Program HERE!
Comments Off on 3 More Ways To Make Sure You're Employing A Happy Staff