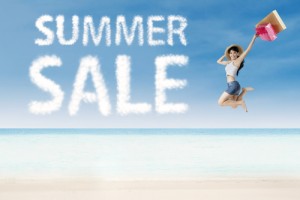 You'd like to increase your sales, wouldn't you? Have you been stuck without an ideal idea for how to boost your sales? Well, in case you haven't yet checked it out, you may want to give yesterday's blog a good read. It contains some sweet summertime marketing ideas that may just be what you need to increase your sales over the next few months. In today's blog, we'll go ahead and add to that list of ideas. So be sure to read all of this one too!
Here are three more ways to supersize sales this summer:
1. Go to summertime events. Yesterday, we encouraged our readers to host their own events and sponsor as many others as they could this summer. Being where people are bound to be, this summer, is sure to help you get noticed a lot more. However, even when you're not sponsoring or hosting an event, you should still find time to attend others. Be sure to show up with your promotional gifts and you're bound to make some new friends who you can turn into customers.
"The summer season yields a number of events that occur in communities across the country such as festivals, concerts, and holiday celebrations," reminds Victoria Vessella on Business2Community.com, "Locals and tourists alike are in attendance at these events, thus presenting an array of current and potential customers to connect with. Furthermore, in some cases the media is present at events that are worthy of receiving coverage."
2. Increase your social media use. This past Tuesday, we blogged about some great ways that you can increase your popularity using such social networking platforms as Facebook and Twitter. You may want to go ahead and give that blog a once over as well. Being interactive with others is a great way to spark interest in your brand without ever having to leave the comfort of your home or office.
On PsPrint.com, Brian Morris suggests that you take things one step further by starting up a social media ticket sweepstakes. "Host a social media ticket giveaway sweepstakes in which people can enter by following your liking you and by encouraging others to do so as well," he suggests, "It's a great way to get more followers for future promotions. Theme parks, water parks, baseball games, concerts and other events are perfect ticket giveaways."
3. Hang a banner outside. As we've mentioned a few times, when the weather is nice, people come outdoors. So it can't hurt to do something that is bound to attract all of those extra eyes to your business. Morris recommends setting up an outdoor banner somewhere that people will see it. Be sure to find a fairly busy location that isn't too far from your place of business. That way, people will be more likely to seek you out.
"Strategically placed outdoor banners – near busy intersections, festivals and shopping districts, for example – can put your sales promotions and brand name in front of thousands of people for cheap," he writes. With your banner attracting more people to your store, you will be given some great opportunities to hand out your promotional gifts. As we've detailed earlier this week, they work wonders in making great impressions.
"Give away a cool summer gift to customers who spend a certain dollar amount," advises Morris, "The extra incentive can drive customers to you instead of your competitors." He goes on to write that summer-themed promotional items would work really well this time of year. Of course, Synergy Marketing can provide you with all of the summer-themed promo gifts that you need. Simply call us at 1-877-748-9884!
Comments Off on 3 More Ways To Supersize Sales This Summer