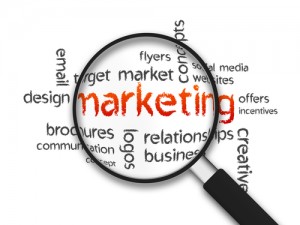 No matter the size of your business, it's important to have a strong focus on your marketing efforts. It doesn't necessarily have to cost you a lot of money to advertise your business. You just need to come up with creative strategies for getting your company noticed in positive ways. At Synergy Marketing, we champion the use of the promotional gift giveaway as a cost-efficient, yet effective way to market a brand.
But what are some other ways to focus your marketing efforts? Here are three:
1. Make sure your website is regularly updated with content. Content marketing is all the rage these days. And, at Synergy Marketing, this is one tip that we're very happy to report that we follow pretty closely. The more interesting and informative content you have on your company website, the more often it will get picked up in search engines. If you're looking for internet surfers with an interest in your industry, you'll want to start up a blog like we have.
On Wordstream.com, Megan Marrs advocates for the publishing of great content on business sites. She offers up some ideas about the ways in which you can present your content. "Try top 10 lists, tip collections, best practices for your industry, etc," she suggests. As you may have noticed, many of the entries in the Synergy Marketing Blog are lists that offer helpful pieces of advice to industry professionals. We strive to continually offer relevant content on our blog.
2. Treat your brand like a person. What does this mean, exactly? Well, consider the fact that all people have personalities. Some you like and some you don't. What is the personality of your brand? What is the feeling you're wishing to instil within others who come into contact with your business? When it comes to marketing your business, think of ways that will make people happy to even know about it.
"Every one of us is an individual whose character is made up of beliefs, values and purposes that define who we are and who we connect with," explains Dan Einzig of The Marketing Donut, "Our personality determines how we behave in different situations, how we dress and what we say. Of course for people it's intuitive and it's rare that you even consider what your own character is, but when you're building a brand it's vital to have that understanding."
3. Utilize your social media accounts. We'd be willing to bet that on the many lists of advice that we've posted to the Synergy Marketing Blog, this particular tidbit has been the most cited. This is mainly because using such social networking platforms as Facebook and Twitter is free. Furthermore, social media continue to be today's generation's top choice for communicating with people all over the world.
Why wouldn't you use it to promote your brand? Marrs advises that you become a savvy social networker. "Create business accounts and participate in the big social media sites – Facebook, Twitter, LinkedIn, Google+, and Pinterest," she recommends, "Add Instagram in there too if your business is image-oriented."
As we mentioned earlier, Synergy Marketing advocates for the giving out of branded promotional gifts. They have long proven to increase sales and improve customer relationships. To place your order for the promo gift of your choice, call Synergy Marketing at 1-877-748-9884 between 9am and 5pm EST or email us at info@gosynergygo.com! You can also sign up for our Insider E-Flyer Program HERE!
Comments Off on 3 Sensible Ways To Focus Your Marketing Efforts