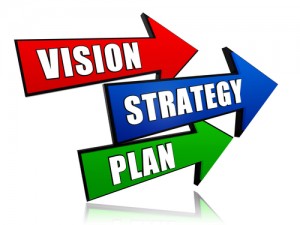 With 2016 now here, your small business will be required to step it up in order to compete with its competition. Why? Well, because your competition is most certainly coming up with new ways to advertise themselves! It doesn't take a New Year's Resolution to begin new marketing strategies. But you can bet that small business owners from all over Canada are thinking of how to outdo their competitors this month.
Here are three ways to do so yourself:
1. Avoid downsizing. Some small business owners get it in their minds that to make more money, they need to save more money. And while this may be true in some cases, the ways in which they go about holding on to their cash only hurts their businesses. Downsizing is one of those ways. There's no major benefit to letting go of competent, talented and loyal employees. On Chron.com, Jennn Fusion explains why.
"Downsizing is the kiss of death for both small and large businesses," she insists, "You cannot put a price on employee loyalty and morale…One strategy to avoid layoffs is to reduce workweeks to four days for hourly employees. Offer salaried employees one week unpaid vacations or ask them to take a temporary 1 percent pay cut. Consider cutting overtime, annual pay increases, bonuses or company parties before laying off dedicated employees you can never have back again."
2. Sell experiences, not products. We've often mentioned that the customer experience tends to overrule actual products and services when it comes to reasons that Canadian shoppers choose to do business with certain brands. It's important that you step up your game in the field of great customer experiences. When people enjoy visiting your place of business, they will be a lot more likely to choose you over your competitors.
On ProfitGuide.com, Vikram Vij champions this idea. "Smart retailers and manufacturers are finding ways to offer…one-of-a-kind immersive experiences that build relationships with brands and offer businesses a chance to interact with consumers in a way digital retailing doesn't allow," he writes. He cites Bauer, a known manufacturer of hockey equipment, as a company that plans on opening stores that includes indoor hockey rinks. How's that for a great shopping experience?
3. Get your community involved. There are few ideas better than ones that suggest that you engage the members of the community where your business is located. When your business is considered a staple in the area it operates in, it will be hard to find greater success anywhere else. Get involved in community events this year and see if it doesn't significantly increase the great impressions made of your company.
"One of the best strategies for boosting profits is to rouse community support and create a buzz about your product," says Fusion, "You want people talking to friend and family about their positive experiences with your product. You want YouTube videos, Facebook posts, free advertising and repeat customers." In tomorrow's blog, we explore some ways that you can utilize social media to boost your brand's recognition.
And, as always, don't forget to hand out your company's promotional products to its customers. To order yours, call Synergy Marketing at 1-877-748-9884 today!
Comments Off on 3 Small Business Strategies That Outdo Competitors