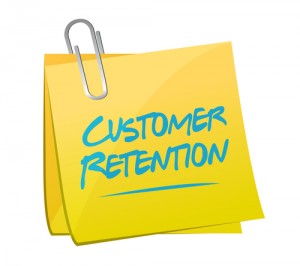 In yesterday's blog, we touched upon the subject of growing customer bases. This is something that all business owners are interested in doing. But what are the best ways of going about it? Yesterday, we highlighted the fact that impressing your current customers is part of the all-important first step. Making your current customers happy is the best way to get the good word about your company spread to others.
"To increase your customer base, it is necessary to stay in constant contact with potential and existing customers and the more value your business can offer, the more likely they will remain loyal," writes Steven MacDonald on SuperOffice.com, "A 5% increase in customer retention can result in a 75% increase in customer value. The challenge is how to improve your retention by 5%." So what can you do to increase customer retention?
Here are three smart ways:
1. Make use of content marketing. Content marketing is all the rage these days. Why do you think that Synergy Marketing posts a new blog to its website each business day of the week? Our website now boasts a wealth of amazingly useful content that has helped for it to be picked up in search engines a lot more than it used to. Another way to use content marketing to your advantage is to send out free newsletters to your current customers.
Keeping in touch with them will help to keep them your customers. "Free is something that everyone can afford, from small businesses to global corporations," reminds MacDonald, "When you offer a free newsletter, you are informing your potential customers that you are willing to provide free information from the start. If you provide good content, customers will know more about your business."
2. Make suggestions to customers based on their proven interests. Smart business owners get to know their customers. They understand their likes and dislikes and cater to their buying habits, as a result. It's best to try to predict what your customers are looking for, based on what they have purchased in the past. They will appreciate your attention to detail. Simply make suggestions considering what you know about them and see if it doesn't boost sales.
In their book, The Startup Owner's Manual: The Step-By-Step Guide for Building a Great Company, Steve Black and Bob Dorf suggest that you utilize your website to make such suggestions. In an excerpt on Entrepreneur.com, the pair recommend that "on every 'thank you' or confirmation page, (you) suggest multiple items the customer may also find interesting, and ideally provide an incentive for purchasing."
3. Maintain an excellent customer service regimen. It's hard to go wrong when your customer service is excellent. It not only helps you to retain customers, but it encourages more customers to give your brand a try. People often want to enjoy their experiences with companies more than they do the actual products they purchase. When customers are made happy, as we pointed out yesterday, they tend to tell others about their experiences.
It's important to make every experience count. "A customer who contacts customer support about their first order is just as important as a customer who contacts customer service about their tenth order," MacDonald reminds us, "Treat each customer with respect and take appropriate action. A happy customer is likely to tell at least three friends about a positive experience and great customer service leads to increased sales."
Comments Off on 3 Smart Ways To Increase Customer Retention