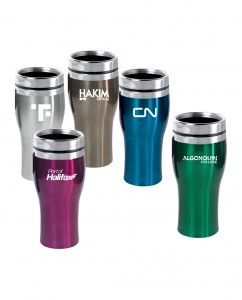 In yesterday's blog, we revisited the ever-so-popular topic of promotional gifts and their ability to attract more customers to your business than any other mode of advertising. The statistics speak for themselves. And, as we've mentioned in many blogs before, the statistics show that promotional products simply can't be beat as top-choice advertising tools. Not to mention, they are amazingly affordable when compared to other, more traditional modes of advertising.
If you haven't yet employed this advertising strategy, perhaps now would be a good time to see just how well it would serve you. For decades, promo gifts have been helping Canadian business owners grow their companies. They are widely heralded as excellent ways to advertise your brand – no matter what industry it belongs to. Wondering just how excellent they are? Well, wonder no more!
Here are three ways promo gifts have proven their excellence:
1. They work as excellent "thank yous". All business owners should thank their customers. Without your customers, your company wouldn't survive. Offering a free promo gift as a show of appreciation is a great way to keep a customer loyal. At Synergy Marketing, our many years of experience have proven to us that when customers receive free gifts, they are very appreciative. Showing your gratitude will always go a long way.
On Top7Business.com, Molly Mathis reminds us that your customers aren't the only people who deserve to be thanked. "You didn't get where you are all by yourself — your employees helped, which you know well," she writes, "Give them a tangible thank you gift on their anniversary or your fiscal year-end anniversary. A picnic is wonderful and fun, but something small to take home with them is a real perk! And they will remain happily loyal just for such a small gesture."
2. They make for excellent "interest sparkers". Let's suppose you're at a trade show. While most of the other business owners are handing out their business cards, you're handing out your promotional travel mugs. Those mugs are bound to be seen all over that trade show throughout the day. And when people inquire about where they came from, recipients will be directing those individuals to you!
Mathis explains how this strategy once worked for her. "I did a promotion for one of my customers that was not only inexpensive, but brought numerous potential clientele to their booth," she reveals, "We did personalized Polaroid picture frames and took Polaroid pictures (with a flash) of the folks who came to the booth. The flash brought other onlookers who wanted to get a "keepsake" that was unique and meaningful to take home, too!"
3. They serve as excellent "loyalty builders". We talk a lot about loyalty on our blog. Customer loyalty is arguably the most coveted result of any marketing strategy. When you have loyal customers, you don't have to worry about advertising in order to attract new ones. Loyal customers tend to do that work for you. Mathis writes that you should go out of your way to commemorate the loyal customers who have been with you the longest.
"Do you have customers who you want to thank for being with you for 'X' amount of years, 'X' number of referrals, 'X' amount of items purchased from you, or money spent at your place of business?" she asks, "This would be a great thank you to them for helping your business to grow!" At Synergy Marketing, we have a wide variety of promotional gifts that can all serve as excellent ways to grow your customer loyalty.
Call us at 1-877-748-9884 today and ask about our travel mugs!
Comments Off on 3 Ways Promo Gifts Have Proven Their Excellence