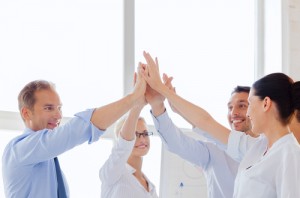 It all goes down tonight! The Toronto Raptors will be playing their first-ever Eastern Conference Finals game when they take on the number one-seeded Cleveland Cavaliers. Favoured to beat our beloved Raptors, the Cavs are lead by perennial all-star, LeBron James. Regardless of the assumed outcome of this series, there is a lot for Toronto basketball fans to celebrate. As mentioned, this is the first time the Raptors have gone this far in the NBA Playoffs.
In 2001, then-Raptor, Vince Carter put up a potential buzzer-beating jump shot at the end of an exciting Game 7 in round two of the playoffs against the Philadelphia 76ers. As all Raptors fans know, Carter would not get the bucket. It has taken an entire 15 years for the Raptors to secure another opportunity to better that playoff performance.
And while the City of Toronto prepares for Game 1 of Round 3 tonight, we'd like to continue our look at ways to acknowledge your team's latest victory. Here are three more:
1. Set up a "winning" team photo. Sports teams take team photos every year. Why shouldn't you take a photo of your winning team? Set up a professional photo shoot to include each member of your team and have it set up in the office in a beautiful frame. Team members don't just enjoy being acknowledged for their jobs well done, they also like the idea that they are part of a team to begin with.
On Chron.com, Amy Guettler suggests you take several team photos to help everyone remember your celebration. "Don't forget to take candid shots as the celebration progresses, as they're always good for a chuckle," she suggests, "After the celebration is over, arrange a photo board, complete with humorous captions, in a prominent area of the office so employees can remember their experience fondly."
2. Say "thank you". Sometimes, keeping it simple is your best option. Not to mention, it's your least expensive option too. It goes without saying that people like to be acknowledged for the good jobs they do. Public acknowledgment is great. But take the time to personally sit down with your top performers in private for a few moments and tell them how much their contributions mean to you. A personal "thank you" will go a long way.
"Employees look to senior management for guidance and ways to behave, and if their efforts continually go unnoticed they become less invested in their work, as well as the company," says Marisa Negri on DigitalistMag.com, "You can throw as many perks and special gifts to your employees as you want, but a genuine thank can go a long way to leave a more lasting impression – as well as a deeper entrenched respect."
3. Food, food and more food! If money is the number one incentive for people to work hard, food has to be number two on the list. At least, this is what we've found, here at Synergy Marketing. Considering that food is both a necessity and an integral part of any good party, feeding your staff is an excellent way to celebrate them after they've performed exceptionally well.
According to Guettler, saving your team members money by not making them bring their own lunches to work is a great way to celebrate their achievements. "Who wouldn't like a break from brown-bag lunches or the chance to indulge in some sumptuous barbecue?" she asks, "Whether you'd like to treat your staff to an elaborate dinner or if you'd prefer to organize a company pot-luck, this type of treat is always remembered."
Don't forget to check back for tomorrow's blog as we conclude our look at how to celebrate your team's recent success!
Comments Off on 3 Ways To Acknowledge Your Team's Latest Victory