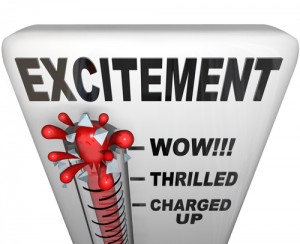 In yesterday's blog, we expressed our excitement over our hometown Toronto Raptors making it into the second round of the NBA Playoffs for the first time since 2001. Their second round series against the Miami Heat kicks off tonight at the Air Canada Centre! As we mentioned yesterday, the Synergy Marketing Blog has a tendency to liken pro sports to everyday businesses. The comparisons can be made easily.
As a business owner, you're no different than a coach. It's your job to train and encourage your team to work together in order to produce optimum results. However, it's also your job to get the general public excited about your brand. Giving customers reasons to support you is an integral part of any company's success. And while you may not necessarily be welcoming fans the way the Raptors have, there are a number of ways you can build excitement around your business.
Here are three:
1. Create a marketing "hook" for your brand. It's done in music all the time. A song's chorus is often referred to as its "hook" for its ability to capture the attention of listeners through its repetitive nature. How can you hook people into your business the same way a catchy chorus of a song can intrigue a music lover? On Forbes.com, Jayson DeMers suggests that you come up with an attention-grabbing message.
"A marketing hook is simply a short message intended to capture attention and get people talking," he explains, "Ideally, it will leave people wanting more. A creative hook can/should be any of the following: A short phrase that conveys your unique value proposition, a 'slant' or angle for your business: something that gets people talking to their friends, a catchy jingle, message or unique offer (or) an important benefit."
2. Launch teasers. Hooks work for songs. Trailers work for movies. When a new film is about to be released, a trailer is generally the first and most popular way that fans will discover what it's all about. Teasers are meant to intrigue audiences. By creating one for your business, you will be helping to build a buzz unlike that of your competitors. Consider ways to "tease" your audience into wanting to know more about your brand.
"Teasers, hints, sneak peaks…they can be called by many names," says DeMers, "The point is that by sharing enticing details of an upcoming product or promotion, you pique interest and leave people wanting more. Build up anticipation by hinting at what's to come. For instance, instead of simply posting a contest on social media, start hinting at it in the week or two prior. Leak out bits of information to give your followers a chance to anticipate what you have in store."
3. Blog about your business. From the "practice what we preach" column comes the concept of blogging. As you're likely aware, we post a new blog to our website each and every business day of the week – even holidays! We also include links to these blogs on our social media accounts. Why? They help to encourage online users to visit our website. Blogs let the general public know that much is happening with your business.
"Take advantage of your blog to generate excitement before, during, and after a launch," advises Lauren Hooker on ElleAndCompanyDesign.com, "Share about the process, explain the benefits of your new brand/service/product/offering, and plant seeds about the launch long before you release more details. You could even create a blog series centered around it all by inviting your readers behind the scenes of what you've been working on to prepare for the launch."
Be sure to check back for tomorrow's blog as we continue to list ways that you can build a bigger buzz for your brand.
Comments Off on 3 Ways To Build Excitement Around Your Business