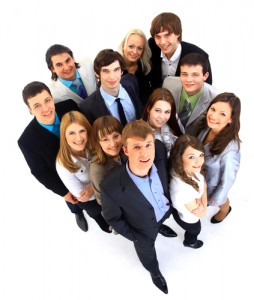 At Synergy Marketing, we talk a lot about customer satisfaction. A huge part of our mission statement is to not only satisfy our customers, but to provide ways for them to satisfy their own customers as well. Working with business owners across Canada for so many years, our sales reps have learned that one of the most important ways to ensure that a company has happy customers is to have happy employees.
Your employees are the lifeblood of your business. Without them, it would be entirely impossible for your company to function. It's of vital importance to your brand's success that you have employees who are completely on board with your own mission statement. And if you want customers to keep coming back, you'll want to have employees who are happy to work for you. That way, you can ensure constant pleasant interactions between the public and your brand.
Here are three ways to ensure the happiness of your employees:
1. Invest in the happiness of your employees. As with everything else that is necessary to run your business, you'll need to devote some money and time into making your workers happy. That includes offering them free lunches every now and again and even taking them on retreats from time to time. Offer them free tickets to sporting events and concerts and provide flexible work hours so they never feel that coming into work is a burden.
2. Involve them in decisions that promote company development. Naturally, the big decisions will come from up top. But when you're the one up top, it's a good idea to consider the views and opinions of the people who report to you. When you give employees the opportunity to contribute to the changes being made at your business, it empowers them and gives them greater senses of self-worth and importance.
On Fortune.com, Verne Harnish suggests that you give your staff members the freedom to express what it is they may wish to change about your company culture. That way, it will help them to do their jobs better. "Ask staffers today what stupid processes and obstacles are slowing their work — whether it's long meetings, endless paperwork, or incompetent colleagues — and then free them from those hassles," he advises, "My prediction: Their productivity will double."
3. Provide worthwhile incentives. "Few things motivate employees like more pay," says Annette Hazard on Under30CEO.com, "People like to be able to make more money than they're already making. Once they get up to a certain point, this fails to be a motivating factor. However, it works well for most employees. Offer them some type of a bonus if they accomplish certain goals for the company."
It's practically a no-brainer to suggest that when you supply your employees with opportunities to earn more than just their paycheques, they will be a lot more likely to put in harder efforts at completing jobs well done. Synergy Marketing's promotional gifts are highly effective in this regard. Your incentives don't always have to be monetary. Free water bottles, flashlights, wine stoppers, USB chargers and other great gifts work wonders!
Be sure to check back for tomorrow's blog as we continue to explore ways to make sure you're employing a happy staff. But, to place your order for the promo gift of your choice, call Synergy Marketing at 1-877-748-9884 between 9am and 5pm EST or email us at info@gosynergygo.com! You can also sign up for our Insider E-Flyer Program HERE!
Comments Off on 3 Ways To Ensure The Happiness Of Your Employees