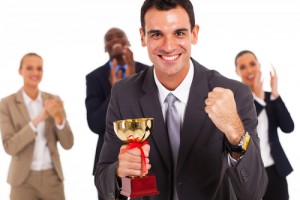 Over the past week, it is highly likely that there are many Canadians who have become basketball fans. A special type of frenzy has been sweeping the nation as Canada's only NBA team, the Toronto Raptors have made it into the second round of the NBA Playoffs for only the second time in the team's history. Add that to the fact that not one single Canadian team made it into the NHL's Stanley Cup Playoffs this year, and you have a country obsessed with basketball!
Okay, perhaps "obsessed" is a strong word. But it's certainly safe to say that the Toronto Raptors have gained themselves many new fans over the past week. With that said, it reminds us that no matter how old your enterprise is (the Raps have been around for 21 NBA seasons now), you always have opportunities to grow. That is certainly true for your business. There are many ways to gain it some new fans!
Are you looking to gain new fans for your business? Here are three ways to do it:
1. Reach out to younger audiences online. It's no secret that the internet is where the young people are. If you're looking to gain new fans for your company, it's a smart idea to become more active on social media. Learn to use hashtags in your tweets and Facebook posts, and be sure to like and comment on the posts of others. Being interactive with the online community will bring a lot more attention to your own profiles, and therefore more traffic to your website.
On Entrepreneur.com, Brad Sugars writes that "even older people are increasingly turning to the Web — making it a definite jumping off point for any advertising strategy. To tap into this medium, your first step is to establish a Web presence if you don't have one already. Then, depending on your target customer — consumers at large or other businesses — pick your Web channel. LinkedIn, for instance, is a mainstay among businesses, CEOs and other owners and entrepreneurs, while Facebook remains wildly popular among consumers."
2. Become an expert networker. While using social media to network with people all over the world will likely be a popular source of gaining greater attention well into the future, it will never be able to replace the good old face-to-face meeting. With summer coming up, you are bound to have many new opportunities to attend events and introduce the face of your company to new people. Be sure to network and make yourself memorable each time you do.
Sugars advises that you take such opportunities to secure referrals for your business. "Landing referrals from networking or past business associations isn't just a cheap way to pick up new business," he writes, "It's also a way to pick up customers with the highest retention rates. What's more, referral customers tend to purchase more over time and in turn become a source of additional referrals."
3. Speak at special events and industry gatherings. Fans look up to their heroes and idols. The best players in the game are often the ones who have their posters adorn the walls of their staunch supporters. This isn't to say that people will begin wanting posters with your likeness if you give them additional reasons to like you. However, when you show how much of an expert you are by speaking at industry events, you'll gain a great deal of respect.
"You have plenty of expertise in your field—why not get involved in the community?" asks Briana Morgaine on Bplans.com, "By sharing your experience and getting involved in your industry at a local level, you'll have the opportunity to grow your connections, as well as your reputation as a thought leader in your industry."
Be sure to check back for tomorrow's blog as we continue to list ways that you can become a star in the eyes of your customers!
Comments Off on 3 Ways To Gain New Fans For Your Business