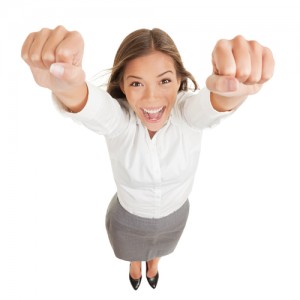 For the most part, business owners are well aware of the importance of advertising. However, they can sometimes get stuck in ruts when they've been using the same marketing techniques for years. When looking to generate new senses of excitement about your products, it's important to introduce exciting new ways of promoting them. It just may be time for you to step outside of your comfort zone and try something a little different!
Here are three ways to generate excitement about your products:
1. Relay the advantages of purchasing your products. When the customers make their buying decisions, they're often based on making choices about supporting one brand name over another. Factors such as price, quality and overall usefulness are often used to determine which of the brands people decide to go with. Instead of focusing on your product, focus your advertising efforts on the buyer. How will he/she benefit from supporting your brand?
Answering this question will end up making consumers more excited about what you have to offer. At least, this is what Shad Connelly writes on ThinkMonsters.com. "One thing boring brands do all the time is focus on specs and features of their products," he says, "People don't care about specs. They care about how a product will impact them. Bring your benefits to the forefront of your marketing and move the features to the background."
2. Run a focus group. There are few people in the world who are more capable of letting you know how worthwhile your products are than the people who have had opportunities to use them. Consider running a focus group that allows specially selected individuals from your target market to try out the products you're selling. Be sure to ask pertinent questions about their experiences to gauge how happy they are with what you're offering.
On YourStory.com, Aditya Kulkarni brings up the topic of movie screenings for members of the media prior to films being released to the public. This gives noteworthy individuals chances to promote the movie to others who will pay attention to their opinions. A focus group works in much the same way. "A movie producer needs to keep the opinion leaders in good humour, so they can say can comment about their work, urging their followers to see the movie," he writes.
3. Remember that laughter is the best medicine. This popular saying works wonders in the world of marketing and promotion. When you can make people laugh, you're bound to get their attention in a memorable way. Just take a look at your average commercial break. How many of the ads are made in a comedic way? Funny advertising tends to get people talking. And with social media being so popular, your funny ad stands the chance of going viral.
Connelly firmly agrees. "The Web has opened the door to more marketing humour," he confidently reports, "It's a risky approach because you actually have to be funny for it to work. But for a 'boring' product, a little humour can go a long way. You can even make a joke of how boring people perceive your product to be. Nothing can push your marketing viral faster than a good laugh."
At Synergy Marketing, our experience has shown us that promotional gifts always make for exciting ways to promote a business. To place your order for the promo gift of your choice, call Synergy Marketing at 1-877-748-9884 between 9am and 5pm EST or email us at info@gosynergygo.com! You can also sign up for our Insider E-Flyer Program HERE!
Comments Off on 3 Ways To Generate Excitement About Your Products