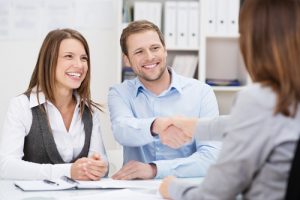 It's often said that marketing your business towards your current customers is a lot more effective and inexpensive that promoting it to new customers. That doesn't mean, of course, that you shouldn't attempt to get your business new clientele. Growing your customer base requires hard work, but it's nothing you can't handle. But once you get those new clients, what should you do to ensure you impress them enough that they remain loyal?
Here are three ideas:
1. Show your human side. Speak to your new customers like people. Let them get to know that you're a down-to-earth, honest-to-goodness human being who will be a joy to do business with. In most cases, this is what truly endears people to work with new businesses. If you push too hard with sales attempts, it could turn your new customers away. You want to make people feel comfortable visiting your place of business time and time again.
"Your goal is to get the client to trust you and hire you, but that doesn't mean you should get right down to business," writes Randle Browning on SkillCrush.com, "Before you dive into the tech talk, take a few minutes to get to know your client. If you're on a video call, ask about where they live or comment on something you love in the background. If you're together in person, ask them how they like the taco place across the street."
2. Express your gratitude. We can't think of a bad time to say the words "thank you". Showing your appreciation is a great way to display your good-natured personality and genuine happiness about your newfound partnership. After all, as a business owner, there is nothing to be more thankful for than a person who is willing to help you grow your business. On TheFreelanceHustle.com, Kayli agrees that it's important to always say "thanks".
"Clients are what keep us in business so it's important to thank them for that," she insists, "I'm not saying that you need to remind them that they put food on your table, but a nice 'hey, thanks for doing business with me' every once in a while is always appreciated. Once you've wrapped a project be sure to include a sincere thank you in the handoff. Sending a hand written note and small, thoughtful gift are also a really nice touch."
3. Do your research. Chances are that your new clients did a little bit of research on you and your company before deciding to do business with you. It's only right that you do the same. Having a strong understanding of your clients' backgrounds will give you greater insight into what you can do to wow them. Doing your due diligence will also demonstrate a level of professionalism that can set you apart from your competitors.
"Researching your client's competitors and peers immerses you in their world," says Browning, "The more knowledge you bring to the table about industry standards, common issues, or new changes in the client's field, the more your client will trust you to make good decisions throughout the freelance project." Be sure to check back for tomorrow's blog as we continue to list ways that you can knock the socks off of your new clients!
And don't forget that to place an order for the promo gift of your choice to promote your business, you call Synergy Marketing at 1-877-748-9884 between 9am and 5pm EST or email us at info@gosynergygo.com! You can also sign up for our Insider E-Flyer Program HERE!
Comments Off on 3 Ways To Genuinely Impress Your New Clients