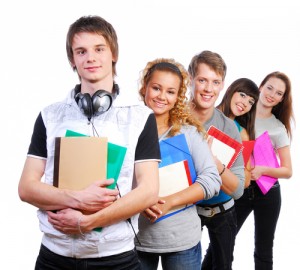 Here's hoping you're enjoying your Labour Day long weekend! For many people, this weekend marks the official end of summer. With school starting tomorrow and with the temperatures about to cool off, Canadians know that the warmest and sunniest time of the year is coming to a close. As a business owner, you also know that changes in your marketing strategies are necessary. And this isn't just because of the upcoming changes in the weather.
Our younger generation should always be paid attention to. However, now that school is about to begin again, the needs of the student population will be changing. From clothes to supplies to finding ways to entertain themselves on the weekends, our youngsters will be spending money differently over the course of the next several months. The question is, how can you company take advantage of that?
Here are three ways to market to the student population:
1. Celebrate important life events. There are many milestones in the life of a young student. Of course, graduation is one of them. For many others, turning 16 is a super big deal. What ways can your company celebrate these milestones in a young person's life? Coming up with marketing strategies that will cater to acknowledging these important life events will endear a younger audience to your brand.
On TheFinancialBrand.com, Tim McAlpine writes that even financial institutions should take this approach, considering that young people are all planning towards building their futures. He intimates that your business should assist young people in preparing for that future. "Generations will come and go, but life events will continue to impact all young people as they move through their late teens and early 20s," writes McAlpine.
2. Take advantage of social media. Readers of our blog will have noticed that we paid quite a lot of attention to the concept of social media marketing last week. And this is nothing new to our blog because we are well aware of how impactful the Facebooks and Twitters of the world are in the lives of young people. The use of photos and videos has never been so important in the marketing of a company.
Shawn Prez insists upon this on HuffingtonPost.com. "Take advantage of these cost-effective platforms and post a cool visual of your product on Instagram and Twitter — inviting your audience to share their thoughts and engage with your brand," he advises, "You can even film short videos showing a celebrity or a sports figure, popular within this demographic, interacting with your product."
3. Create an app and keep it simple. In keeping with the fact that our youngsters are prone to go online on a regular basis, it would be wise to create an app that can keep them informed about your brand. Keeping it simple will keep them engaged, insists McAlpine. The easier you make it for young people to find you and stay connected to your company, the better it will be for business.
"Gen-Y doesn't know how to fix things when they aren't working," he explains, "An iPad doesn't even have any screws, so young people can't poke around inside to see how it actually works. Young people don't know where they saved their files, because the very concept of a "file system" is disappearing…An iOS or Android app that isn't polished and engaging gets tossed aside seconds after the first use."
Be sure to check back for tomorrow's blog as we continue to explore this topic!
Comments Off on 3 Ways To Market To The Student Population