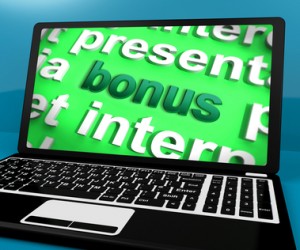 Ever since The Oscars took place last weekend, the Synergy Marketing Blog has been focused on the idea of presenting awards to those who matter most to your business. When you think about it, our company is all about presenting others with tokens of appreciation all year long! For many years, our great promotional products have served to acknowledge both company employees and customers with awesome symbols of gratitude.
And as you know, the gesture of handing out promo gifts has gone a long way in securing customer loyalty for companies all over Canada. These days, there are many ways to reward your customers for their loyalty. And social media are arguably among the best methods. Today, people communicate via Facebook and Twitter more than they do phone calls and in-person conversations. So here are three ways to reward your customers through these online methods.
1. Stickers, badges and pins. Now here's a concept we haven't delved into before on our blog. On SocialMediaExaminer.com, Belle Beth Cooper writes that on "applications like Foursquare, GetGlue and Gowalla, collectible stickers, badges, pins, medals, stamps, items or trophies add a game-like competition to the user experience." She notes that creating a competition-based atmosphere around these apps encourages users to get involved.
But how exactly does the strategy work to boost business?  "This strategy is perfect for businesses that thrive on frequent repeat purchases," she informs us, "It could be used to reward repeat purchases, similar to the idea of 'buy 5 coffees, get 1 free' you might see at your local café, or to reward customers for recommending friends to your business." Apparently, stickers, badges and pins can help add to the customer experience with your brand.
2. Digital discounts. It's hard to beat getting an item for a discounted price. People love saving money. And when your business allows them to do so, it's bound to attract more buyers. Cooper suggests that you begin offering discounts through your online profiles. Making the discounts available exclusively online is bound to increase the number of friends and followers you have. This will help to get people talking about your business a lot more.
But how exactly does the online discount strategy work?  "You may want to offer coupon codes for a discount in your physical store, which users can print from your website, which will drive traffic to your site and sales to your store," informs Cooper, "Or you could offer regular discounts or special offers to your email subscriber list. This will encourage new customers to sign up, and give you a bigger and more receptive customer base to send news and information to."
3. Contests and competitions. Contests have always been great ways to spark excitement and get people involved. To engage new customers and reward your existing ones, you may want to give away free prizes to those who enter contests that you've set up online. As Cooper points out, it will help to provide you with free publicity, as people will be visiting your social media profiles to learn more about the contest and to enter it.
But how exactly does running a contest help your brand?  "A great prize will encourage people to enter a competition, but it's also true that the majority of online customers are content consumers, not creators," says Cooper, "Therefore, to have a content-creation competition be successful, the prize needs to be more impressive to encourage more effort from users." At Synergy Marketing, we have some fantastic prize ideas to choose from!
Don't hesitate to give us a call at 1-877-748-9884 to order your promotional gifts today!
Comments Off on 3 Ways To Reward Your Customers Via Social Media