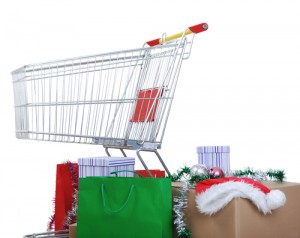 Preparing your business for the busiest shopping season of the year can be hard work. But, it can also be a lot of fun. Just consider how much more money you stand to make if you find the right ways to encourage more customers to walk through your doors in the coming weeks. As we pointed out in yesterday's blog, you know that shoppers will be out in full force looking for holiday gifts. What can you do you ensure that more of them visit your place of business?
Here are four more ways to boost holiday shopping sales:
1. Seek some marketing assistance. Just because you're a business owner, it doesn't necessarily make you a marketing expert. There's certainly no shame in that. Take this opportunity to consult the advice of an expert in order to provide your business with a competitive advantage this holiday season. Coming up with the right marketing strategy to boost sales will definitely be worth the investment.
On SterlingFunding.com, Karen Erdelac advocates this practice, knowing that small business owners have to "wear a lot of hats." "You are usually the first in and the last out and devote countless hours to making sure that your company is operating as efficiently as possible," she notes, "However, sometimes it is best to seek the advice of an expert who can bring forth fresh new ideas. Even if you already have a marketing plan in place, have it reviewed to ensure that it is as comprehensive as possible."
2. Work to execute your marketing strategy. Coming up with a great marketing plan is one thing. But how can you ensure that it is executed correctly? It will be important to understand each step of the plan so that it can be rolled out successfully. Consider things like the type of products you plan on advertising, how to display them in your store, whether or not they can be purchased online and how long the sales are going to last.
On EvanCarmichael.com, Melanie Boone advises that you focus on the execution of your marketing plan. "We all know that planning is an important element of business growth," she says, "Execution of that plan however is paramount. Every great plan that sits on a desk and never gets executed is nothing more than clutter taking up space in your office. Since most people think that this is a slow period, you have the opportunity to really focus on execution of your strategy."
3. Offer more services. This is definitely the time of year when consumers are looking to have things made easy for them. They will be out spending more money, but it's not because they particularly have more money. The holiday season and shopping just go hand in hand. The thing is, holiday shopping and frustration also tend to go hand in hand. If you can offer more services to make things easier on shoppers, you will likely have a lot more people visiting your store.
"To garner new interest from customers, you may need to re-invent yourself and your company," writes Erdelac, "For example, if you are a bakery, consider marketing a delivery service for busy professionals. You could deliver your goods at meetings and save them the time and hassle of the pickup. Or, if you have an auto body repair facility, you could offer an additional repair service or bring in a new brand of merchandise."
4. Hold a contest. People love opportunities to win something for free. Is there a better time to generate such excitement than during the holiday shopping season? Make one of your most sought-after products a prize, but don't forget to combine it with one or more of your company's promotional gifts. It's always a great idea to offer shoppers constant reminders of where to do their shopping.
To order the best promo products in the business, call Synergy Marketing at 1-877-748-9884!
Comments Off on 4 More Ways To Boost Holiday Shopping Sales