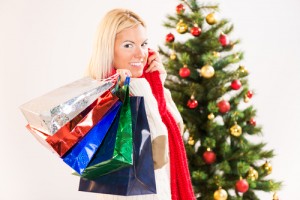 In yesterday's blog, we revisited the concept of holiday shopping and just how busy retail stores in Canada are right now. As the owner of a retail store, however, you can't take for granted that sales will increase just because it's the busy holiday shopping season. As we mentioned yesterday, there are some ways to encourage holiday shopping at your store. In today's blog, we'll explore a few more.
Here are four more ways to boost retail sales during the holidays:
1. Make sure your important orders are delivered on time. During the busy holiday season, customers aren't just looking for popular items. They're looking to have those popular items delivered on time. In the many cases when such items have to be ordered, it's your job to ensure that they will arrive in your store by the time you promise. Late deliveries are easy ways to frustrate customers to the point where you lose them for good.
On Retailers.com, Bob Negen insists that you always know the status of your important orders. "If that huge order of your most popular thing-a-ma-bob isn't coming in on time and you don't make adjustments, it's going to cost you, and maybe cost you big," he warns, "Don't take any chances that your best sellers didn't make it to the warehouse in time for this years' holiday season. Be proactive!"
2. Showcase the usefulness of your products. Just because your products look good doesn't mean that they're good for your customers. That is, of course, unless you demonstrate just how good they are! Set up an area of your store where you or your employees can demonstrate the awesomeness of the products you sell. Offer discounts to customers who purchase the item directly after the demonstration.
On SpecialtyRetail.com, Nancy Tanker highly advocates for the demonstration. "Most products can be demonstrated and demonstrations do increase sales-if they're done right," she writes, "Train your employees on how to run a proper demonstration. Don't leave it up to them to develop a strong demo pitch. If you want the most sales possible, you need to give your employees a selling road map to follow."
3. Create an enjoyable atmosphere. Getting customers through the doors of your store is the first step to boosting sales. You can encourage more visitors if you make your store a fun place to visit. Not only should it be decorated in a festive way, but it should also be an interactive place where people have fun. That way, you'll keep customers in your store longer, giving you more opportunities to sell to them.
Negen advises that retail store owners make shopping fun for their customers, and shares an idea of how to do so. "Fun sells, especially during the holidays," he asserts, "It doesn't have to be hard, or fancy. Have a 'guess the number of candy canes in the big glass bowl contest' or something of the sort. Let your imagination run wild; get into the spirit of the season!"
4. Keep hiring talented staff members. "Experienced retailers hire throughout the entire holiday season," says Tanker, "They know that to keep your employee pipeline humming, you must be continually hiring. Use an employee-referral system that rewards your current employees for referring anyone subsequently hired."
Comments Off on 4 More Ways To Boost Retail Sales During The Holidays