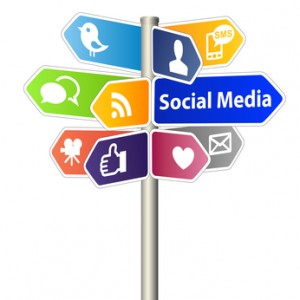 Each business day of the week, you will find a link to our daily blog posts on our Facebook and Twitter accounts. As we admitted yesterday, we're still getting the hang of this social media thing. But we must admit, since we've been using our accounts more frequently, we have grown our reach and made greater impressions among the Canadian buying public. This is especially important for us because we have clients from all over the country.
As you can imagine, social media allows us to be social. It helps us to personally interact with people from all over the world. As you may have guessed, this is what makes social media so powerful. They help for people to be in touch and expose their personalities in ways that traditional advertising cannot. On Forbes.com, Kym McNicholas speaks to this point when she writes that people should share "story ideas and leads that have nothing to do with your business."
Sometimes, not advertising is the best kind of advertising. On social media, people like to engage in discussion about a variety of topics. Doing so can lead to people checking your business pages out and taking an interest in your brand. In yesterday's blog, we began looking at some tips listed by McNicholas to help business owners get a firmer grasp on how to use social media to their advantage. In today's blog, we'll conclude our look at that list.
1. Post Updates. Well, there's certainly no point in signing up for social media accounts if you have no intention of keeping them updated. Consider your accounts extensions of your website. The same rules apply. When you don't update your accounts, you will appear stagnant, giving no one any reason to keep checking you out. In fact, "it's important to have content on your social media pages before you start adding friends and followers," says McNicholas.
2. Find Friends and Followers. Of course, the point of using social media is to gain as much as exposure as you can. Getting friends and followers will require you to put some effort into attracting people to your pages. "Search keywords to find followers," suggests McNicholas. And don't forget to become a follower of other industry-types so that you can gain greater exposure online. People have to know you exist in order to follow back!
3. Engage Friends And Followers. As we mentioned in yesterday's blog, you can't simply join social media without being social. It's important to ask questions and answer those that have been asked of you. Be sure to like other people's posts and leave comments where appropriate. The more you interact with others through social media, the more links you create to your own pages. It certainly pays to be active on your accounts!
4. Stay Current. People love discussing current events. It's something we keep in mind when we're blogging. It's the reason we make mention of such events as the recent FIFA World Cup tournament. So many people were talking about it, why wouldn't we? As well, it's important to "get alerts sent to your phone when folks engage with you via your social networking sites – at least in the beginning – that way you respond quickly," reminds McNicholas.
Your social media pages are also great places to communicate your intent to satisfy your customers when they come into your physical stores. One way to do that is to offer up discounts and other benefits to those who come in and mention that they saw your promotion online. This gives you a great opportunity to hand your promotional gifts as well. For decades, they have proven to foster loyalty and promote referrals.
Get yours today by calling Synergy Marketing at 1-877-748-9884!
Comments Off on 4 More Ways To Make Social Media Work For You