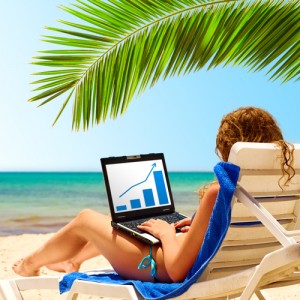 Using social media to promote a business is nothing new. Not by today's standards, anyways. Jumping online and starting up social media profiles should be on the to-do lists of all business owners – if they haven't done so already. In yesterday's blog, we discussed the fact that social media can help to do a lot more than simply connect you with new potential customers. They can help promote your company's summer events in an effort to grow your business!
Here are four more ways to plug your summer event via social media:
1. Create a unique hashtag. The "#" symbol has significantly increased in popularity over the past few years. No longer simply referred to as a "number" or "pound" sign, the "hashtag" creates conversation links that will put your social media posts in the mix with many other similarly hashtagged posts. On SocialMediaExaminer.com, Kimberly Reynolds writes that you should create a hashtag and use it across all of your social media channels.
"This tip may seem like a no-brainer, but you would be surprised how many events skip this vital step," she says, "Create, use and market your event-specific hashtag. You should be using this hashtag well in advance of your event dates and it should be included on EVERYTHING. Every digital image you create, every piece of collateral, your email signature…Anywhere you can think of—share it!"
2. Include your event information in your bios. All social media outlets allow you to create a short bio that will tell friends and followers all about you. This bio can be updated at your leisure. So, it's a pretty safe bet that including information about your upcoming summer party in your bio would be a good idea. Reynolds writes that, once you've created your unique hashtag, it should be included in your bios as well.
"Now that you've created your hashtag, don't forget to add it to the Bio (About) section of each of your social accounts," she advises, "An event hashtag in the Bio section is an often-underused tactic, but it has the potential for big gains. Once you have a link to your event, update your Bio section, and then people have a very simple way to find out more. They just need to click the link!"
3. Share behind-the-scenes content. As you can imagine, a lot goes in to planning an event. Reynolds highlights the fact that people love to see behind-the-scenes footage and will likely be interested in taking a look at how your entire event unfolded. "A LOT of work goes into pulling off a fantastic event," she notes, "Give a glimpse into this exciting and sometimes chaotic experience by sharing images and videos of the preparations going on."
She goes to advise you to "share stories of how you're pulling everything together and don't forget, mistakes and challenges happen. Be authentic and share the challenges you face and what steps you took to resolve them. It humanizes your brand and makes you more relatable. Posting behind-the-scenes photos and videos is also a great way to generate buzz and boost engagement."
4. Welcome new followers with an invitation video. Reynolds writes that Instagram has particularly made this step an easy one. "You have 15 seconds to say thank you to your new followers and invite them to your event," she instructs, "This is especially effective if the person making the video will also be at the event to greet attendees. Who doesn't like to see a familiar face when in unfamiliar surroundings?"
Comments Off on 4 More Ways To Plug Your Summer Event Via Social Media