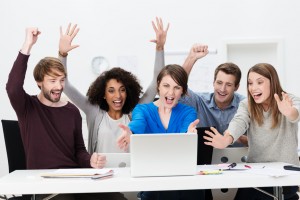 In yesterday's blog, we revisited the topic of boosting employee morale and pointed out that the end of January is usually a good time to start implementing some ways to do so. The holidays are long gone and the everyday working grind is beginning to affect your staff members. Doing what you can to boost their spirits and re-energize them will go a long way in helping your business to be successful.
Here are four more ways to re-energize your employees:
1. Be willing to accept feedback from your employees. It's always a good idea to reward your employees. But, arguably, there is no greater reward than accepting their feedback and implementing changes based on it. Your staff members want to know that what they have to say matters. Proving that their opinions are of consequence will give them all the more reason to work hard to make your brand great.
2. Don't shy away from offering promotions. Your best employees are characterized by the ones who wish to move up in your company. While some may be happy simply to receive pay cheques, there are those who wish to stay with your company for the long haul. Those are the members of your staff who will go all out to make your business great. Reward them by making them know that there are opportunities for growth.
"Forty percent of millennials expect promotions every one to two years," says Sujan Patel on Inc.com, "To maintain employee morale among a new generation of employees, you need to emphasize the viability of your promotional tracks. Be clear about opportunities to grow, not just during recruitment but on a regular basis."
3. Grant time off to employees to pursue projects they are passionate about. Maintaining an appropriate work/life balance is important for everyone. That includes you. According to Marcus Erb on Entrepreneur.com, when you offer your employees the ability to take time from work to pursue personal projects, it can serve as an "energizing break from regular responsibilities and can serve as a source of innovation for a company."
4. Offer real lunch breaks. Let's be honest. Most lunch breaks don't allow people enough time to leave their work stations, eat their meals, use the restrooms and return comfortably back to their jobs. There usually isn't enough time. If you notice that your employees are feeling constrained by the times they are given for their lunch breaks, try to come up with ways to make such breaks more enjoyable and relaxing.
"Research suggests that only one in five people take lunch breaks and that white-collar workers are least likely to step away from their desks for a break," informs Patel. He goes on to point out that research has shown that when people stay inside to eat their meals at their work stations it is, "really detrimental to creative thinking." "Get managers on board to take a coffee break, go for a walk or check out a new restaurant every day," Patel recommends.
And, as always, remember to reward your staff with your company's promotional gifts. To place an order for the promo gift of your choice, call Synergy Marketing at 1-877-748-9884 between 9am to 5pm EST or email us at info@gosynergygo.com!
Comments Off on 4 More Ways To Re-energize Your Employees