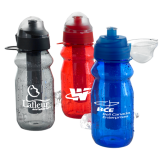 With summer practically here, it's important to think of promotional strategies that incorporate the wonderment that comes along with the warmth and sunshine of summer. It's a good thing that the Synergy Marketing Blog is here for you! Over the past couple of days, we have unveiled some excellent tips for business owners looking to take advantage of the summer. These tips can even help you out if summer happens to be your slow season.
But, as you know, Synergy Marketing does a lot more for you than simply provide useful information. Of course, our blogs are invaluable. But are promotional products provide unparalleled value in the world of business marketing. For decades, promo gifts have helped business owners grow their client bases, secure customer loyalty and increase sales. And the summer time is one of the best times of year to hand them out!
That's because the summer encourages more people to come outside of their homes, giving you more opportunities to welcome them through your doors. Synergy Marketing provides the best promo products in the business. And that includes great gifts that make the summer that much more enjoyable. You may want to consider one or more of the following promo gifts that we offer to help your summer become your most successful one yet!
Flying Saucer. This 9 inches-in-diameter Frisbee is one of the best possible accompaniments to any picnic, barbeque or day in the park. Your customers will love how lightweight, fun and practical it is considering the time of year. At only $4.99 a piece, these Flying Saucers are excellent investments in your business. Have them fly around all summer long with your business name and contact information on them!
500ml PC Water Bottle with Ice Stick. During the hot summer months, there is arguably nothing better than a cold drink of water. For those on the go, this 500ml BPA-FREE Poly-Carbonate Water Bottle with Ice Stick will ensure that drinks are kept cold. At only $6.99 a piece, these water bottles are available in transparent black, blue and red, our water bottles and allow for a one location imprint that is included in the price!
Sunglasses. Shades and the summertime simply go hand in hand, don't they? With the sun blazing down on us, it's important to keep our eyes protected. But who says we can't look cool while doing it? We have a selection of sunglasses which all make for perfect summer-themed promo gifts. They include the ProVision Sport Glasses, the Europa Sport Sunglasses, the Europa Driving Glasses and the ProVision Extreme.
Pro Tour Two-ball Golf Putter. Synergy Marketing also offers an array of high-end promotional products for your most important and prestigious clients. It goes without saying that many people enjoy going for rounds of golf during the sunshine-filled summer time. This amazing Pro Tour Two-ball Golf Putter comes with a steel shaft and a black rubber grip available for both right and left-handed golfers. It will be tough to find a more impressive gesture!
As you know, Synergy Marketing prides itself on providing the best promo products in the business. We also pride ourselves on employing highly-energetic and friendly sales reps who know what gifts work best with each business type. Be sure to call one of our friendly and knowledgeable reps at 1-877-748-9884 to order the perfect promo product to push your business this summer!
Comments Off on 4 Sensational Summer-Themed Promo Gifts