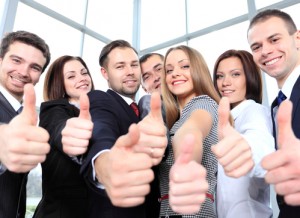 With nearly a month of 2016 already in the books, you may be noticing a bit of a lag in the energy around your place of business. Generally speaking, each New Year starts off strong but, by the time January winds down, there is a dip in enthusiasm. By now, people have gotten used to the everyday grind that comes with working, as the holidays are long gone. So what can you do to boost the energy of your staff members?
Here are four ideas:
1. Design a company outing based on employee feedback. It's always nice to give your team some time away from the office. Setting up company outings that reward your employees' hard work is a great morale booster. But allowing them to choose where and how they'd like to celebrate their accomplishments is an excellent way to motivate them to perform at their best well into the future.
On Inc.com, Sujan Patel agrees that to boost employee morale, you crowd-source your company outing ideas. "How many times have you been to a company outing that missed the mark?" he asks, "Instead of putting your HR team in charge, ask for anonymous nominations for a company-wide outing — then let your team vote for their favourites. Giving employees the opportunity to shape rewarding activities ensures that your effort serves everyone."
2. Celebrate their accomplishments. The more you make your employees know that their contributions matter, the more they will be willing to contribute to your business. Don't shy away from publicly acknowledging the jobs well done by your top performers. "It's natural to focus on what's ahead rather than reflect on how much has been achieved," says Marcus Erb on Entrepreneur.com, "Taking time to reflect, though, helps employees appreciate how much they have done."
3. Remove negative influences from your staff. Firing people is generally not a recommendation that makes many lists of how to boost employee morale. However, the old adage about there always being a "bad apple in the bunch" is often true. As a result, you may need to seriously take a look at the dynamics of your staff and find out if someone is just not gelling with others. Patel bluntly describes such people as "jerks".
In fact, he quotes executive coach Rodger Dean Duncan who describes jerks as those who "intimidate, condescend, or demean, swear, behave rudely, belittle people in front of others, give only negative feedback, lie, act sexist or racist, withhold critical information, blow up in meetings, refuse to accept blame or accountability, gossip, and spread rumours, use fear as a motivator, etc." If that sounds like someone you've employed, it's time you let that person go.
4. Give out promotional gifts as rewards. Don't assume that promo gifts only work as advertising methods. Giving them out to customers will work wonders for boosting your client base. But giving them out to your employees will also inspire loyalty. Be sure to acknowledge the contributions of your staff while also boosting their senses of pride in who they work for by sending them home with branded promo products.
To place an order for the promo gift of your choice, call Synergy Marketing at 1-877-748-9884 between 9am to 5pm EST or email us at info@gosynergygo.com!
Comments Off on 4 Ways To Boost The Energy Of Your Staff Members