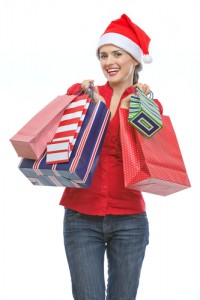 There are less than a couple of weeks left until the big day! So, you know that Canadians will be flooding the malls between now and Christmas to get their hands on all of the gifts that are on their wish lists. The holiday season is undoubtedly a very busy time for retailers. But it's important for retail business owners to not simply assume that foot traffic will automatically increase. They have to advertise the fact that customers are welcome to do their holiday shopping in their stores.
Here are four ways to do that:
1. Inform your customers about your most popular items. Many holiday shoppers don't even have wish lists. Instead, they pop in and out of various stores hoping to find items that they believe their loved ones will like. Make sure that your staff is informing your customers about some of the most popular items you have for sale and be sure to let them know how and why their loved ones would enjoy them.
On Retailers.com, Bog Negen explains that one of the top ways to boost sales during the holiday season is to attempt to add on to every sale that you make. "Pick an item or two with high margins and universal appeal," he recommends, "Then get everyone on your staff to ask every single customer if they would like one. This simple act will generate thousands of dollars in sales."
2. Go heavy on social media advertising. Everyone knows that we're living in an era of very high internet use. For the most part, people are figuring out what they want to buy by going online to learn more about what's for sale, before they head into the stores. Make sure that your business has a high internet presence over the next two weeks. Use your social media accounts to promote what you have for sale.
On AabacoSmallBusiness.com, Gabriel Shaoolian agrees that a social media advertising campaign is necessary during the holidays. "Design a creative image for a Facebook post that is both visually eye-catching and also clearly articulates the details of your sale," he suggests, "If your holiday sale offers free shipping to your customers, make sure your image has 'FREE SHIPPING' in large type so that users can't miss it. Images like these are more likely to trigger interaction and sharing."
3. Be sure to have enough inventory. This is certainly not the time of year to be disappointing customers. If you are advertising certain products, be sure to have them in stock. It's possible that you'll run out if sales are high. And that's obviously a good thing. But it's important to be able to restock your items daily and give out guaranteed rain checks, if necessary, so that your customers don't go elsewhere to get what they're looking for.
"You'll want to have four to five times as much product as you expect in sales for the season," insists Nancy Tanker on SpecialtyRetail.com, "Keep your backstock handy and your display fully stocked. Create the desire to buy with an abundance of product choices so your customers can each find something to buy that speaks to them."
4. Get into the spirit of giving. As is obvious, shoppers are looking for bargains right now. And it doesn't get any better than free! Take advantage of all of that extra foot traffic and do your part to encourage it to continue well into the new year. Handing out free gifts is a great way to impress your customers to a point where they'll want to do business with you again. Call Synergy Marketing at 1-877-748-9884 to order the promotional gift of your choice today!
Comments Off on 4 Ways To Encourage Holiday Shopping At Your Store