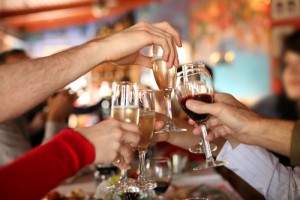 In yesterday's blog, we visited the subject of promoting your restaurant business during the holiday season. Obviously, this is the time of year when there are more people out and about than usual. Holiday shopping breeds hungry customers. But, as we mentioned, it isn't wise to automatically assume that those hungry customers will be lining up to eat at your establishment. What can you do to entice more visitors?
Here are four more ideas:
1. Create a festive atmosphere. As a restaurant owner, you're well aware that people don't just visit restaurants for the food. Most enjoy eating in environments that are warm, cozy and exciting. The atmosphere aspect of a restaurant can make all the difference in the world. No matter how good your food is, no one likes eating in places that don't invoke feelings of fun and relaxation.
During the holiday season, this is especially important. Decorate! Make your restaurant look like the most fun place to be this month! Buzztime.com advises that you create a sense of warmth and coziness through you décor. "Give your guests a respite from the cold with added touches, such as cranking up the fireplace, serving hot cocoa and eggnog and sprucing up your interior with holiday lights and decorations," suggests the website.
2. Get your staff in a festive mood. Customer service is everything. This is true whether it's the holiday season or not. But if you really want your customers to enjoy their time spent in your restaurant this month, your staff members will need to be in a "holly jolly" spirit. Be sure to go over what you expect from them in terms of customer interaction. But, also make sure that they're well-versed on all of the dishes you offer.
"Your back-of-house team obviously needs to be aware of menu changes so they can execute the new dishes properly, but don't forget to train your front-of-house staff — especially servers — on the updates, as well," says Linda Hays on RewardsNetwork.com, "The best way to get everyone on board, and sprinkle in some team building, is by hosting an all-employee tasting. As the front-line marketers for your menu, your servers need to know every detail about the new dishes they'll be recommending to your customers"
3. Offer special discounts on meals. Obviously, people are spending more money these days than they are at any other point in the year. If they're able to save money at your restaurant, they will be a lot more inclined to eat there. Consider offering discounts on special dishes or adding appetizers to meals at minimum costs. There's no customer out there who isn't interested in getting a deal right now!
"The holiday season is an expensive time for most consumers, so they will likely be paying extra attention to how much they spend on dining out, especially after all of the holiday fanfare has passed," says Buzztime.com, "Think about ways to help your customers save a few bucks without it negatively impacting your restaurant's profits."
4. Hand out promo gifts. As you know, this is something that Synergy Marketing champions all year long. However, there is no better time than the holiday season to give out gifts to your customers. They serve as excellent reminders of where to shop – and, in your case, eat! Promo gifts have long been known to encourage repeat business, garner referrals and increase sales. Call Synergy Marketing at 1-877-748-9884 to order yours today!
Comments Off on 4 Ways To Entice More Visitors To Your Restaurant