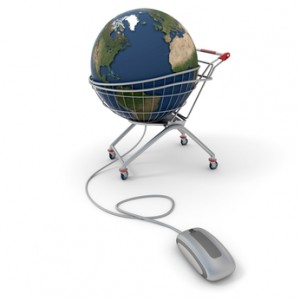 Did your company benefit from the online shopping craze that was Cyber Monday yesterday? If not, you've missed out on quite the opportunity to generate more sales than normal through your website. Not to worry, though. There are still plenty of shopping days left in the holiday shopping season. And you better believe that those shopping days will continue to include customers going online to make their purchases.
So how can you ready your website in order to take advantage of Canada's love for online shopping? As we pointed out yesterday, there are many reasons why people prefer to shop from home. It doesn't take Cyber Monday to make online shopping a big time convenience for consumers. It's important, therefore, to have your company website set up in such a way that it is providing that convenience.
Here are four ways to prepare your website for online holiday shopping:
1. Proofread the content. You don't want the material on your site to be too convoluted or busy so that it distracts visitors from knowing exactly how to locate and purchase the items they are looking for. "Too much information or content that's presented in large intimidating blocks will cause web browsers to search elsewhere," writes Ryan May on BusinessDictionary.com, "In the same way, focus on four to six main products and make those a priority, rather than throwing everything you offer at the consumer up front."
2. Make sure your site is easy to navigate. Not only should the content be easy to digest, but the usability of your website should be super easy. Remember, online shoppers love convenience. Your website should provide that. On Entrepreneur.com, Mike Azevedo highly recommends that you offer simple navigation, easy-to-read content, consistent design elements, quick website speed and clear access to support through your website.
3. Plug your site via social media. If there's one surefire way to let consumers know that your company offers its products for sale through its website, it's to put the word out through social media. Be sure to make use of your Facebook and Twitter pages, among others, all through the holiday season. Let your followers know that even though Cyber Monday is over, there are plenty of deals available on your company website.
"Businesses that use social media sites like Facebook and Twitter have invested heavily in these outlets for the promotion of their products and services, directly targeting holiday shoppers searching for deals from their favourite brands," informs May, "You can do the same by providing package deals or other special incentives to those who routinely follow your brand, inviting people to your Cyber Monday event by tapping the networks that you've spent all year cultivating."
4. Make sure your site is mobile-friendly. It's important to remember that a lot of people do their online shopping with a small device that fits in the palms of their hands. It's called a smartphone. You may have heard of it! Making your website mobile-friendly ensures that your company can benefit from the many Canadians who use their smartphones to both browse and shop on a daily basis.
"Consumers continuously shift between smartphones, desktops and tablets throughout the day" Azevedo reminds us, "As such, their digital storefront and shopping cart should ideally sync across all these devices. By optimizing your site for mobile, your customers can continue their shopping experience wherever they are and subsequently increase your company's sales."
Comments Off on 4 Ways To Prepare Your Website For Holiday Shopping