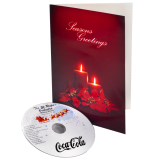 'Tis the season to be merry! And if you're a business owner, having this philosophy will do your company a great service in the coming weeks. You see, we're officially now at the time of year when spreading holiday cheer is the norm. But more importantly, it can be quite a lucrative practice for you. Naturally, the increase in the number of shoppers coming your way will give your more opportunities to build stronger relationships.
And making sure to pass along warm holiday wishes is the ideal way to grow those connections. One way to achieve that is to hand out holiday greeting cards. It's an age-old practice that hasn't lost its lustre over the years. People appreciate kind gestures, especially during this time of year. So there's no time like the present to hand out these "presents". StudioMirageGreetings.com agrees and lists five benefits to handing out holiday cards to your customers.
1. It communicates your appreciation. The website states that giving customers Christmas cards is the perfect way to show how much you appreciate them. It lets them know that they are special. According to the site, "the holiday card will allow you to convey a personal message. Your clients will know that they are important to you and this will also help in maintaining customer loyalty."
2. It strengthens relationships. As we mentioned before, your kind gesture of a holiday card will help to build the relationships you've been developing with your customers. No matter the business type, clients appreciate their interactions with companies over and above the actual products and services they pay for. As StudioMirageGreetings.com points out, the holiday season provides "a good opportunity to acknowledge your working relationship and extend a friendly gesture."
3. It markets your business to new clients. As great as holiday cards work to grow the relationships you've already made, they work just as well in growing your client base. "They enable you to put your business name out there," reads the website, "Sending cards to prospective clients shows them that you are willing to go the extra mile by taking the time to send them a personal greeting during the busy Christmas season."
4. It provides a personal touch. There are many informal ways to express thanks. A holiday card is not one of them. This is especially true when you are thanking your employees. "Show your appreciation to employees and co-workers by giving them a greeting card with a personal message," advises StudioMirageGreetings.com, "Acknowledgement of employee effort is good for morale and in maintaining good communication and work productivity."
5. It helps you to stay organized. Admittedly, sending out holiday cards may take up a bit of your time. But considering how important a gesture it is and how much it can benefit your business, it's certainly worth doing. Organizing your time this holiday season will be of paramount importance. "Stepping it up" to organize your time will hopefully become a practice that you carry on right into the new year.
At Synergy Marketing, we can do you one better than a traditional holiday card. We offer cards that come with wonderful holiday CDs! They make the perfect promotional giveaways during the holiday season. The CDs include 12 memorable holiday classics and the two different card designs are not dated so that can be used year after year! To place your order, give us a call at 1-877-748-9884!
Comments Off on 5 Benefits To Handing Out Holiday Cards To Customers