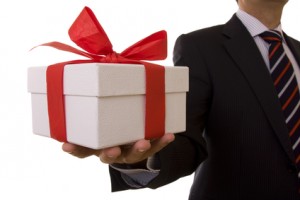 Promo gifts work. But you've heard us say that before. In fact, readers of the Synergy Marketing Blog have received numerous examples of how promotional products help to build business over the past few years. But as always, you don't have to just take our word for it. By scouring the internet, you're bound to find several testimonials about the greatness of promo gifts.
But scour no further! As always, we've done the scouring for you. And by doing so, we realized that the Rescue A CEO Blog has done quite a bit of scouring on its own. In actuality, the blog has spoken to a number of entrepreneurs who all share their two cents about how to make promo gifts work for your business. As we often do, we'd like to add two more cents to the pile as we comb through these suggestions.
Choose items that reflect your company. According to Salvatore Avati of Black Jack Merchandising, it's important to build your brand by offering products that are unique and useful to your specific customers. Remember that the objective of your gift is to get your client to remember you long after he or she interacts with you. As an example, we suggest Ice Scrapers and Tire Guages for those in the automotive industry.
Find something useful and trendy. According to Mike Wolfe of WAM Enterprises LLC, you leave lasting impressions when your gift if one that can be used over and over again. Especially if it's a modern, trendy item, it is bound to be used time and time again by the recipient. "Instead of thinking about yourself, think about what other people want or need," says Wolfe.
It should provide relevant information and be valuable on its own. Your promo gifts pack quite the punch as they are multi-purposed items. That means that they both promote your brand and make the lives of your customers easier. According to Cordelia Blake of Oh Goody! Party Favors, flyers get thrown out but promo gifts add value to the shopping experience had by your customers.
They should be intimate, authentic and unexpected. "In a perfect world, your promotional products would tell your story, the way you'd want it told, when you're not even in the room," says A. Kamran Popkin of Swag Club, "And when it's a perfect fit, it doesn't really even NEED your logo upon it." So what stories do you wish to tell by the promo gifts you hand out? Real estate agents tend to give out key chains so their clients remember how they got their new homes.
Look at your audience before choosing. According to Linda Neumann of Brilliant Marketing Ideas, Inc., "promotional products have one of the best returns on investment for your marketing dollars". This is because it is the type of advertising that literally stays with people. If you know your audience, you won't have them throw away your gift. Make them relevant to your target market and you will be rewarded.
In tomorrow's blog, we'll continue to take this interesting look at the world's entrepreneurs and their opinions about how to choose the perfect promo gift for your business. And, as you know, Synergy Marketing provides that perfect promo gift! There's no one better to speak to about it than one of our experience and friendly sales reps. Give them a call at 1-877-748-9884 today.
Comments Off on 5 Factors To Consider When Choosing Your Promo Gifts