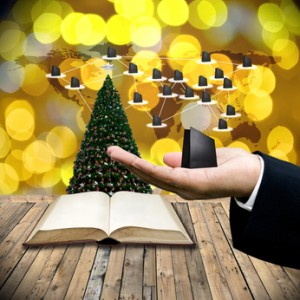 In yesterday's blog, we began to look at some holiday marketing tips provided by Wendy McCance on SearchingForTheHappiness.com. She notes that with just a few weeks left in 2014, the time is now to really push for more sales. After all, this is the time of year when business owners have the best opportunities to grow their client bases for the new year. Holiday shopping is at a fever pitch right now. Are you getting in on the action?
McCance really champions the use of social media in her article. At Synergy Marketing, we're no strangers to the power of Facebook and Twitter. We have often blogged about it, but more importantly have utilized these social networking sites to plug our blogs and offer links to our website. No one knows, better than us, how important it is to be able to communicate with a client base on a daily basis.
It's exactly what we're experts at doing! And because of this, we know that Canadian business owners greatly benefit from giving out promotional gifts to their customers. As we mentioned yesterday (and many times before), people love to get things for free. But what else can you do to have a strong end to 2014? In today's blog, we'll round out McCance's list of holly jolly holiday marketing tips.
1. Get the staff involved in something charitable. As we've said in previous blogs, getting involved in charity is always a win-win situation. And is there a better time of year than now to give back to those who are less fortunate? McCance suggests getting involved in a toy drive or packaging holiday food for those in need. It's a great way to help others enjoy the holidays in ways that they wouldn't otherwise be able to afford.
2. Run holiday email campaigns. As we've mentioned, McCance strongly believes in the power of the internet. And she doesn't restrict her advice to the use of social media alone. Email newsletters have long worked to spread business news in a very economical way. "Offer FREE shipping, pre-wrapped gifts or discounted gift cards," says McCance. This is bound to send some business your way that may have gone elsewhere.
3. Write a holiday article that you can post on your website. Well, here's some advice that we obviously take ourselves! The majority of our blogs over the past month have been holiday-themed. Naturally, this time of year brings about a certain energy and excitement and it's important for your company to reflect that in the content that it adds to its site. If you need help with blogging, you should look into hiring an experienced blogger.
4. Send out holiday cards the old-fashioned way. At Synergy Marketing, we strongly believe in handing out free gifts. But you knew that already. To reiterate McCance's tip here, giving out gifts during the holidays is the perfect way to show your favourite customers how much you care about their business. "Show your clients you truly care and take the time to mail them a holiday greeting," she writes. We suggest our Holiday CDs & Greeting Cards!
5. Hand out promotional gifts. Why stop at greeting cards? There are a ton of promo gifts to choose from at Synergy Marketing. Fantastic holiday-themed gifts such as ornaments and winter-themed gifts such as ice scrapers are incredibly popular right now. Wouldn't it be a good idea to get your hands on some great promotional gifts right away? To place your order, give us a call at 1-877-748-9884!
Comments Off on 5 More Holly Jolly Holiday Marketing Tips